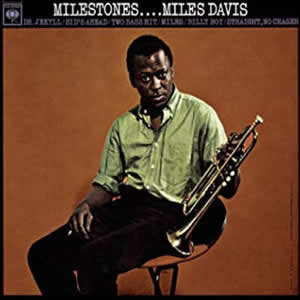 The aptly named 1958 album Milestones is an important marker of a studio album by jazz trumpeter and composer Miles Davis, as it features his "first great quintet" as well as Davis' first journey into the experimental modal jazz sub genre. In fact, Milestones may rest on the continental divide between the traditional, chord-based jazz arrangements that Davis had mastered over a decade prior and the Lydian Chromatic Concept, which breaks away from the strict European harmonic system and utilizes a free-form sense of melody. The album was Davis' third with Columbia Records, following the 1957 albums 'Round About Midnight and Miles Ahead.
In the mid 1940s Davis briefly studied at the Institute of Musical Arts (currently known as the Juilliard School) in New York City. Here, Davis spent much of his time in clubs as a protege to Charlie Parker and began participating nightly in jam sessions in Harlem and performing at clubs on 52nd Street. He eventually replaced Dizzy Gillespie in Charlie Parker's quintet and participated in his first recording sessions as part of Parker's group, the Reboppers. In 1949, he signed a contract with Capitol Records as a session man where he was involved in helping develop the "cool jazz" style of playing. In 1951, Davis signed a contract with Prestige Records and would record some 27 albums on the Prestige and Blue Note labels over the next decade. During this time period, he would also develop his signature muted trumpet style and toured the world playing many distinguished festivals.
Davis returned to New York City in early 1958 and revived his quintet with pianist Red Garland and saxophonist John Coltrane. The group recorded Milestones at Columbia studios in New York with producer George Avakian.
Milestones

by

Miles Davis
Released: September 2, 1958
Produced by: George Avakian
Track Listing
Primary Musicians
Dr. Jekyll
Sid's Ahead
Two Bass Hit
Miles
Billy Boy
Straight, No Chaser
Miles Davis
Trumpet, Piano
John Coltrane
Saxophone
Red Garland
Piano
Paul Chambers
Double Bass
"Philly" Joe Jones
Drums
Jackie McLean's "Dr. Jekyll" starts things off as a frantic, high speed jazz jam with Davis' horn barely beating the double bass of audacious player Paul Chambers in a race towards musical glory. Late in the song, Chambers provides a slight bowed lead with "Philly" Joe Jones adding a short drum solo to close the song. The extended original track "Sid's Ahead" has Davis pulling double duty on trumpet and piano with an overall much smoother and more moderately paced delivery than the opener. Once again there is a bass lead along with a laid back tenor sax solo by Coltrane. The song was written by Davis as a tribute to disc jockey "Symphony Sid" Torin.
Closing out the original first side of the album, "Two Bass Hit" was written by John Lewis and Dizzy Gillespie and is a fun and rapidly evolving song where all play at top capacity. The signature title track, "Miles" (later re-titled "Milestones") features some harmonized riffing during the intro and outro fade, with Davis, Coltrane and "Cannonball" Adderley taking turns with fine leads in between.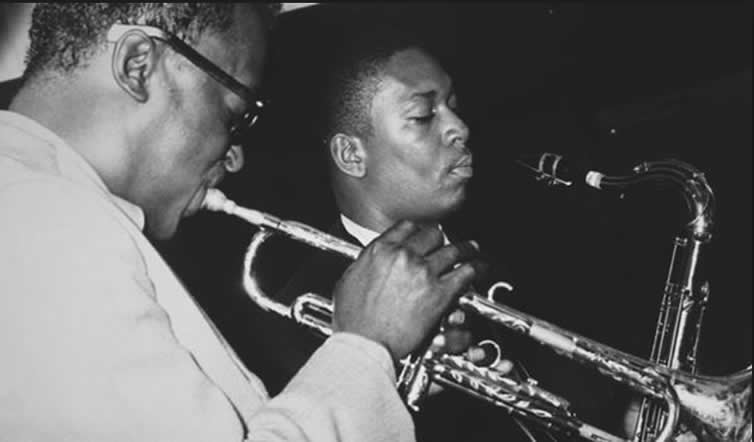 Davis takes a song off for the traditional "Billy Boy", letting the core band members shine, led by Garland's piano along with the masterful rhythms of Chambers and Jones. The album concludes with "Straight, No Chaser", a composition by Thelonious Monk. Here, we return to horn-led, upbeat jazz with Coltrane providing a smooth sax in contrast to the biting, angry horn lead by Davis. After each member takes a moment to shine, the group repeats the main theme and fades out to end the album.
The recording of Milestones was made during one of Davis' most creatively intense periods of his career as he recorded and released two more albums with other players during 1958. Shortly after the recording of this album, he replaced Garland and Jones with Bill Evans on piano and Jimmy Cobb on drums to complete the classic lineup on what would become his 1959 critical masterpiece and commercial breakthrough, Kind of Blue.
~
Miles Davis Online