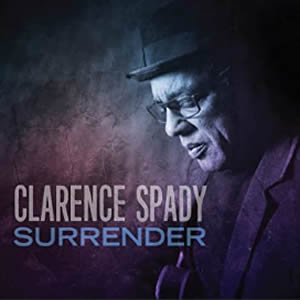 Earlier this year, Pennsylvania based bluesman Clarence Spady released his third studio album entitled Surrender, the first new release by Spady in nearly a decade and a half. Released in May 2021, the nine tracks on the album are comprised of new original studio recordings along with some live recording from a 1999 performance at the River Street Jazz Cafe in Wilkes-Barre, PA. The new studio tracks were recorded in 2019 and 2020 at Red Rock Recording Studio in Saylorsburg, PA, with the album being co-produced by Spady and Scott Goldman and the music featuring members of The Electric City Band, a homage to the "home team" from Scranton, PA.
Born in Paterson, New Jersey, Spady moved with his family to Scranton and began playing guitar at a very young age. Both his father and uncle were musicians and had a blues jam each weekend with Clarence soon catching on and participating. Beyond blues, Clarence also developed a taste for R&B, country and bluegrass and he had an early gig as a sideman with the Johnson Family, playing early 70s-style funk and soul. In the 1980s, Clarence played with A Touch of Class, a touring R&B band where he learned horn arrangements and harmony vocals, and later he had a long time gig with Greg Palmer's band.
But eventually Spady wanted to get back to his blues roots and he formed the West Third Street Blues Band where he started composing original music. His acclaimed 1996 debut Nature of the Beast featured a mix of originals and classic covers which led to Clarence being nominated for the 1997 W.C. Handy Award for Best New Blues Artist. Spady spent years touring and produced a live recording that was not released before finally recording a follow-up studio album in 2008, Just Between Us, which was nominated in 2009 as Soul Blues Album of the Year. A patient and deliberative artist, Clarence once again took about a dozen years to record another album.
Surrender

by

Clarence Spady
Released: May 21, 2021
Produced by: Clarence Spady & Scott Goldman
Track Listing
Primary Musicians
If My Life Was a Book
Good Conversation
When My Blood Runs Cold
K-Man
Surrender
Down Home Blues
Addiction Game
Jones Falls Expressway
Pick Me Up
Clarence Spady
Lead Vocals, Guitars
Adam Shultz
Guitars
Scott Brown
Keyboards
John Ventre
Bass
Pat Marcinko
Drums
The album commences with "If My Life Was a Book", co-written by lyricist William Weller and featuring a 60s soul vibe, choppy guitar and a smooth bass by Jon Ventre. "Good Conversation" is as smooth and melodic as any R&B hit, led by a fine guitar lead by Adam Shultz, a teenaged prodigy who also composed this tune. "When My Blood Runs Cold" offers blistering blues right from the jump with a whining guitar lead and the most forceful vocals thus far by Spady.
The next tune, "K-Man", is a personal tribute to Clarence's late son Khalique, who tragically passed away at age 25. The song has some cool harmonica by Tom Martin thrown in as the distinct feature on this track. The title track "Surrender" is an autobiographical slow blues ballad of reflection, followed by "Down Home Blues" an acoustic cover which offers an original interpretation of the 1982 track by Z.Z. Hill.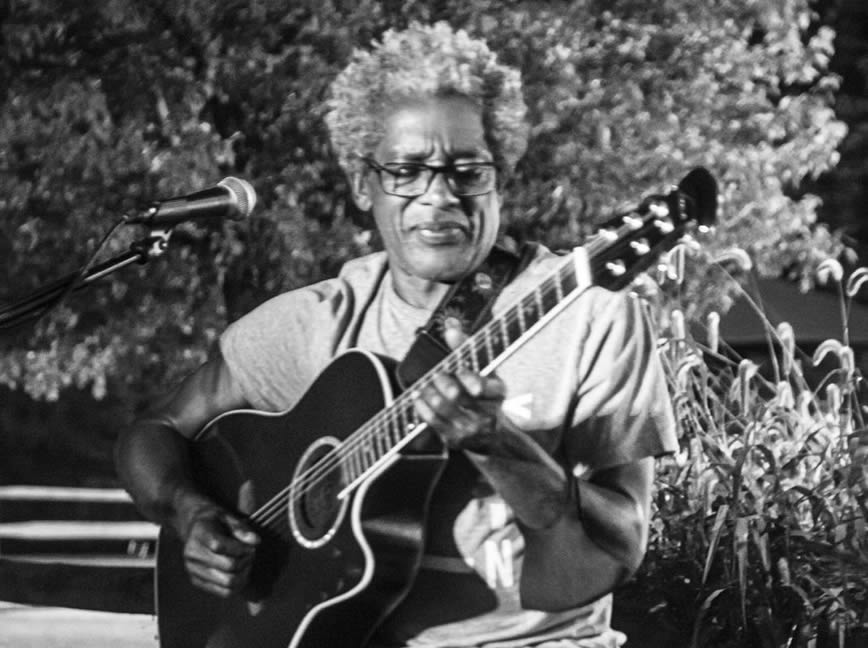 The live recordings from a 1999 performance, Surrender's final three tracks feature Spady backed by Tom Hamilton on saxophone, Mark Hamza on organ and pedal bass and the late Shorty Parham on drums. "Addiction Game" addresses a life-long issue by the composer, while "Jones Falls Expressway" is a long, ten-and-a-half minute instrumental jam which got it's title from a highway near Baltimore where Spady and Hamza nearly lost their lives. The smooth, almost Gospel-like closer "Pick Me Up" finishes things off.
In addition to the new album release, 2021 saw Clarence Spady release a funked-up version of Chuck Berry's "Christmas". And he's not finished yet, as Clarence has already started writing more originals in preparation for an upcoming album and, heading into 2022, he is also hoping to expand his touring as venues and events begin reopening.
~