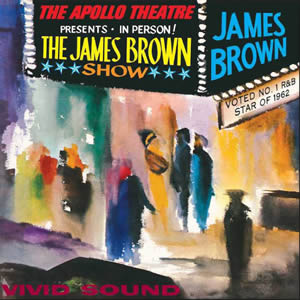 In 1962, James Brown's stage show was hitting its peak and he wanted to capture these dynamic performances on a static record. However, he faced objections from his label King Records, who didn't believe a live album with no new material would sell. So Brown decided to finance the recording himself and on Wednesday night, October 24, 1962, Brown and his backing group The Famous Flames recorded what would become the the classic album, Live at the Apollo. To everyone's surprise, once the album was released in the Spring of 1963, it was an incredibly rapid seller with many record stores unable to keep up with the demand for the product and some R&B disc jockeys often playing the album in its entirety.
Convicted of robbery at age 16, Brown formed a gospel quartet with some fellow cellmates. Upon his release in 1952, Brown joined a group led by Bobby Byrd, which alternately went by the names the Gospel Starlighters and the Avons, but eventually became the Famous Flames with a reputation as a good live act. After opening for Little Richard in 1955, the group was put in touch with Richard's manager who arranged the recording of an original demo "Please, Please, Please". The song became a million-selling R&B hit, but subsequent hits were hard to come by through the late 1950s. By the end of the decade, Brown had become the group's featured front man and he and the band made their debut at the Apollo Theater in Harlem in April 1959, In 1960, they had a Top 10 R&B hit "(Do the) Mashed Potatoes" and in 1962 they scored a Top 5 hit with a cover of the instrumental "Night Train", which also became Brown's first Top 40 song on the Billboard pop charts.
Brown and the Flames had been at the Apollo for about a week prior to recording Live at the Apollo, a successful strategy to build up momentum among the rowdy crowds. While Brown is credited as the album's sole producer, King Records owner Syd Nathan was reluctantly present to oversee the recording, which has been labeled the finest live performance ever captured on record.
Live at the Apollo

by

James Brown & the Fabulous Flames
Released: May 1963
Produced by: James Brown
Track Listing
Primary Musicians
Introduction
I'll Go Crazy
Try Me
Think
I Don't Mind
Lost Someone
Please, Please, Please Medley
Night Train
James Brown
Lead Vocals
Les Buie
Guitars
Lucas Gonder
Organ
Lewis Hamlin
Trumpet
Hubert Perry
Bass
Clayton Fillyau
Drums
Keyboardist Lucas "Fats" Gonder offers the album's minute-and-a-half-long intro to a cool, sixties rhythm-fueled "The Scratch". The first dip into this emerging Soul sound is "I'll Go Crazy", with call and response vocals, fine guitar by Les Buie and musical accents by the horn section. This song was originally released as a single in 1960 and this live version was later the B-side for the 1966 single of "Lost Someone". "Try Me" is a doo-wop-like ballad, musically driven by Hubert Perry's potent bass and Goner's choppy piano/organ before a slight horn lead. "Think" is a frenzied, upbeat jam with a fine sax lead, while "I Don't Mind" is a ballad with interesting timing and intensity
The figurative and literal heart of the album is the nearly-eleven minute "Lost Someone", which was unfortunately divided between both original record sides. Featuring the most intense reaction and well-timed female screams from the crowd, this soulful ballad with strategically placed horn section accents is, perhaps the finest showcase for Brown's vocal mastery and absolute showmanship. A truncated version of this performance was released on the 1966 hit single.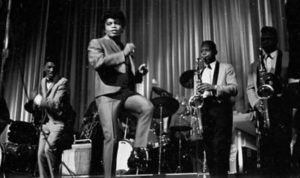 A nine-part medley follows as Brown and the group seamless move through several of their past songs, anchored by Brown's first single, "Please, Please, Please". The tight performance is really the highlight here as they slightly touch on each medley part, usually for just a short verse each, through "You've Got the Power", "I Found Someone", "Why Do You Do Me", "I Want You So Bad", the crooning ballad "I Love You, Yes I Do", "Strange Things Happen" and "Bewildered". This frenzied, half-hour album completes with the exclamation "All aboard!" for the rhythmic "Night Train" with a great horn section led by trumpeter Lewis Hamlin.
Live at the Apollo eventually reached number 2 on the album charts and stayed on the charts for 14 months. With the success of this largely independent production, Brown soon launched his own label, Try Me Records, and formed a production company with Byrd. Through his long career, Brown recorded several more "Live at the Apollo" albums, but it was this original one which was inducted into the Grammy Hall of Fame in 1998 and added to the Library of Congress's National Recording Registry in 2004.
~
James Brown Online