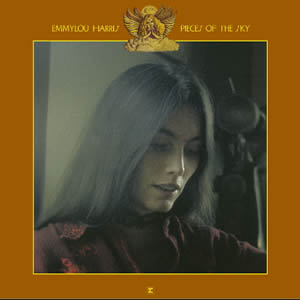 While Pieces of the Sky was officially her second album release, it had the effect of a dynamic debut by the relatively unknown Emmylou Harris in early 1975. This record launched Harris into the top echelon of country artists and was notable for its eclectic selections of covers and dedicated compositions which showcased this singer's talents and offered a fresh approach to the genre overall. In fact, this critically acclaimed album has often been cited as influencing a shift in country music back towards its folk / Americana roots as well as a forerunner in the emerging genre of "Outlaw Country".
A native of the American South, Harris migrated to New York City to join the Greenwich Village folk scene of the late 1960s. Soon she recorded her folk-influenced debut album Gliding Bird, which found little commercial success following its 1969 debut but found new life after Harris' later success. In 1971, Harris was recommended to Gram Parsons, who was looking for a female vocalist to collaborate with on his record for Reprise records. Soon Harris toured as a member of Parsons's band the "Fallen Angels", and the pair collaborated on a second studio album, Grievous Angel (released posthumously by in 1974). Tragically, Parsons died of a drug overdose in September 1973.
In the wake of Parsons' demise, Reprise focused on Harris as a solo artist and she was paired with Canadian producer Brian Ahern. The album that would become Pieces of the Sky was recorded in Los Angeles and Silver Spring, MD and featured an impressive array of musicians to back Harris, including guitarist James Burton and pianist Glen D. Hardin who both had recently backed Elvis Presley in the legendary TCB Band.
Pieces of the Sky

by

Emmylou Harris
Released: February 1965
Produced by: Brian Ahern
Track Listing
Primary Musicians
Bluebird Wine
Too Far Gone
If I Could Only Win Your Love
Boulder to Birmingham
Before Believing
The Bottle Let Me Down
Sleepless Nights
Coat of Many Colors
For No One
Queen of the Silver Dollar
Emmylou Harris
Lead Vocals, Acoustic Guitar
James Burton
Electric Guitar, Dobro
Glen Hardin
Piano, String Arrangements
Byron Berline
Fiddle, Mandolin
Ray Pohlman
Bass
Ron Tutt
Drums
The album's opener, "Bluebird Wine", was written by a then-largely-unknown Rodney Crowell, a songwriter and musician who Harris would work with extensively in subsequent years. This folk/bluegrass opening track features a strong banjo presence by former Eagle Bernie Leadon, a short fiddle lead by Byron Berline and an interesting instrumental coda section to end the song. "Too Far Gone" is a piano ballad written by Billy Sherrill which places the lead vocals at the centerpiece. This track was released as a single but did not immediately fare well, with a 1978 re-release reaching the Top 20 of the Country charts. Conversely, "If I Could Only Win Your Love" was an immediate hit (the first for Emmylou Harris) as it reached the Top 10 on the charts. This Louvin Bothers cover was recorded mainly as a duet with Herb Pedersen and it features both a fine mandolin lead and a mellow slide lead.
The album's centerpiece is also its only composition by Harris, "Boulder to Birmingham". This exquisite Country ballad with sad and powerful lyrics that recount the grief Emmylou felt following the death of her mentor Gram Parsons. The side one closer, Danny Flowers' folk ballad "Before Believing" features another sad lyric and vocal centerpiece which contains the line that gives the album its title. Next comes Merle Haggard's "The Bottle Let Me Down", this cover stays true to the original musically with good harmonizing and fine slide guitar licks.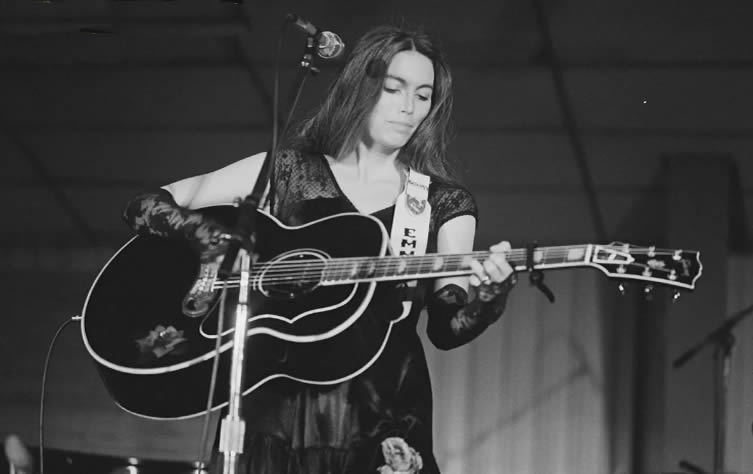 The latter part of Pieces of the Sky continues the diverse array of music. "Sleepless Nights" has an excellent and unexpected chord progression through the mellow folk/country ballad with deliberative piano notes leading the music and rich harmonies accenting the vocals. "Coat of Many Colors" maintains the emotion and feel of the Dolly Parton original, while the cover of the Beatles' "For No One" advances the composition as the melody is almost totally unique and pacing is more deliberative and with much more emotion. The closer, Shel Silverstein's "Queen of the Silver Dollar" finishes things on an upbeat, albeit sarcastic note as a poetic parody and the track (and album) ends with an excellent coda jam.
Pieces of the Sky reached #7 on the Billboard Country albums charts and was eventually certified gold in sales. Harris next enlisted Burton, Hardin, Crowell and others to form the Hot Band and toured to support the album as Emmylou Harris' career went into overdrive.
~
Emmylou Harris Online