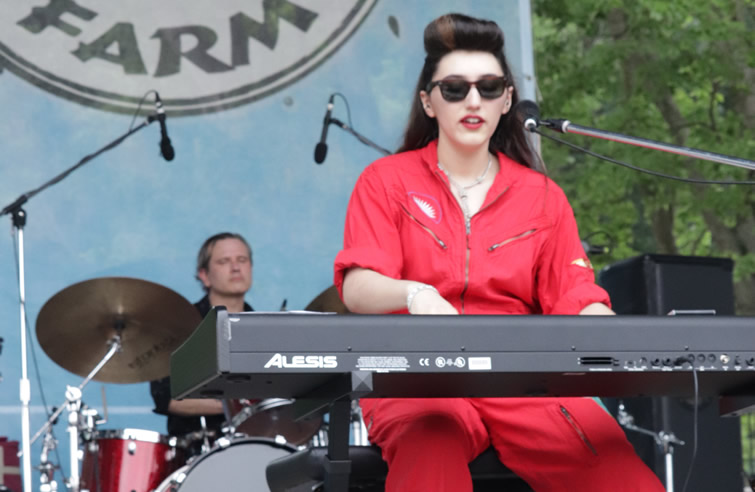 During this year's (2022) Briggs Farm Blues Festival we had the honor of interviewing Veronica Lewis, a 19-year-old prodigy is such a beautiful soul and a very humble individual who loves her fans genuinely. In it's 25-year history, Lewis was one of the youngest artists to be featured on the main stage of this prestigious Pennsylvania summer festival and she did not disappoint with her mesmerizing live performance on piano and vocals.
Born in Keane, New Hampshire, Veronica started playing piano at age 6 when her parents refurbished an old piano from their neighbor's barn. She was mainly self-taught as she improvised a mix of her favorite styles; rhythm and blues, New Orleans style boogie-woogie and early rock n' roll. By age 12 she was doing live performances in the Boston area and beyond and her reputation began to grow throughout her teenage years.
In 2021, she released her self-produced debut album, You Ain't Unlucky, while still a senior in high school. When approaching this record, Veronica took the classic approach of pressing record and getting the best performance on the spot, like the classic Memphis studios of Sun or Stax. The album debuted at Number 2 on the Billboard Blues charts and topped the iTunes Blues chart before winning multiple awards through 2021 and 2022.
You Ain't Unlucky

by

Veronica Lewis
Released: February 19, 2021
Produced by: Veronica Lewis
Track Listing
Primary Musicians
You Ain't Unlucky
Clarksdale Sun
Put Your Wig on Mama
Is You Is My Baby
Fool Me Twice
Whoo Whee Sweet Daddy
Ode to Jerry Lee
The Memphis Train
Veronica Lewis
Lead Vocals, Piano
Joel Edinberg
Saxophone
Mike Walsh
Drums
Six of the eight tracks on You Ain't Unlucky were written by Veronica with the two covers being Louis Jordan's "Is You Is My Baby" and Katie Webster's "Whoo Whee Sweet Daddy". The originals alternate from the Jerry Lee Lewis style of "Clarksdale Sun" to the pure blues and vocal intensive "Put Your Wig On Mama" to the alternating tempos and intensities of "Fool Me Twice". There's also the short but entertaining instrumental "Ode to Jerry Lee", where Veronica really shows off her piano chops and the closer "The Memphis Train" (not to be confused with the Rufus Thomas song of the same name), which probably was influenced by Veronica's first trip to Beale Street a few years back where she performed at the famous Silky O'Sullivan's.
Of course, the highlight of You Ain't Unlucky is the New Orleans style, opening title track, built on a blues shuffle and plenty of piano leads intertwined with the slightly optimistic lyrics delivered through passionate vocals. All in all the record is a solid debut which remains true to style.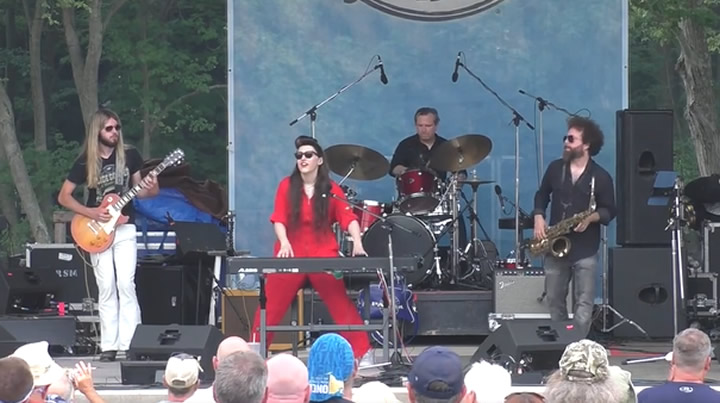 When we talked at the Briggs Farm Blues Festival, Miss Lewis spoke of her plans for the upcoming year. while she's currently working on writing new tunes she also feels blessed with how things are progressing, so she doesn't want to rush anything out as she wants to enjoy and showcase live any new songs. Her excitement came when she was asked to perform at this festival, which has an outstanding reputation in the blues world. Veronica stated she always wanted to play here stating, "I think it's definitely the best weekend of the year. The fans are incredible, everyone that works behind the scenes to make it all possible." Further, she wanted all of her fans to know how much she appreciates their love and support. "That's what makes it all possible and keeps me motivated and inspired."