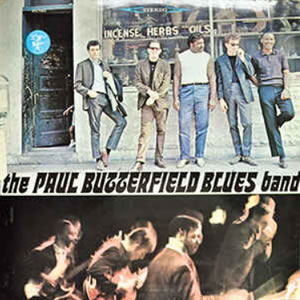 The Paul Butterfield Blues Band released their self-titled debut album in 1965. While this record was not an immediate commercial success, over the decades the album has grown in accolades and it has been cited as a landmark blues album. The Chicago-based group drew heavy influence from artists like Muddy Waters and Howlin' Wolf, rekindling this style of electric blues for a new and wider audience in the mid 1960s.
In 1960, vocalist/harmonica player Paul Butterfield joined with guitarist Elvin Bishop to form the core of the group. Once the pair got regular club gigs, they enlisted bassist Jerome Arnold and drummer Sam Lay, both of whom backed Howlin' Wolf on tour, as the rhythm section for the new group. Word of their highly successful shows caught the attention of producer Paul Rothchild of Elektra Records in 1964. Rothchild arranged to have Mike Bloomfield to join the group as a second lead guitarist and signed the group to his label.
Rothchild's initial idea for a debut record was to record the group live at a venue in New York City. However, this project was soon abanodoned but later released as The Original Lost Elektra Sessions in 1995. After the Paul Butterfield Blues Band made a historic appearance at the Newport Folk Festival in July 1965, including a set where they backed up Bob Dylan when he "went electric", Rothchild decided to bring the band into the studio to make a proper debut. During this time, keyboardist Mark Naftalin was added, expanding the group to a sextet.
Buy The Paul Butterfield Blues Band
The Paul Butterfield Blues Band

by

The Paul Butterfield Blues Band
Released: October, 1965 (Elektra)
Produced by: Paul Rothchild & Mark Abramson
Track Listing
Primary Musicians
Born in Chicago
Shake Your Money-Maker
Blues with a Feeling
Thank You Mr. Poobah
I Got My Mojo Working
Mellow Down Easy
Screamin'
Our Love Is Drifting
Mystery Train
Last Night
Look Over Yonders Wall
Paul Butterfield
Lead Vocals, Harmonica
Mike Bloomfield
Guitars
Elvin Bishop
Guitars
Mark Naftalin
Organ
Jerome Arnold
Bass
Sam Lay
Drums, Vocals
The opening track "Born in Chicago" was written by Nick Gravenites, who previously performed the song in a duo with Bloomfield during the early 1960s. While Butterfield was initially reluctant to sing this song, Bloomfield insisted on it being included in the band's repertoire, and it became a popular favorite. "Born in Chicago" was later recorded by a various artists such as George Thorogood, Pixies, Jesse Colin Young and Tom Petty. The Elmore James tune "Shake Your Money-Maker" features excellent upbeat blues rock with Bloomfield's distant slide throughout. "Blues with a Feeling" starts with a long harmonica intro by Butterfield before the more somber verses kick in, while the instrumental "Thank You Mr. Poobah" features a boogie shuffle before it works into a harmonica showcase.
Muddy Waters' "I Got My Mojo Working" is a hyper fun and choppy cover with vocals by drummer Sam Lay before the original first side ends with an excellent blues rocker, "Mellow Down Easy", with Arnold's bass acting as the bedding for the various rapid instrumental leads. Bloomfield's instrumental "Screamin'" is a real classic riff by Bloomfield with a persistent harmonica by Butterfield over its four and a half minute duration. "Our Love Is Drifting" is an original by Butterfield and Bishop as a classic blues ballad.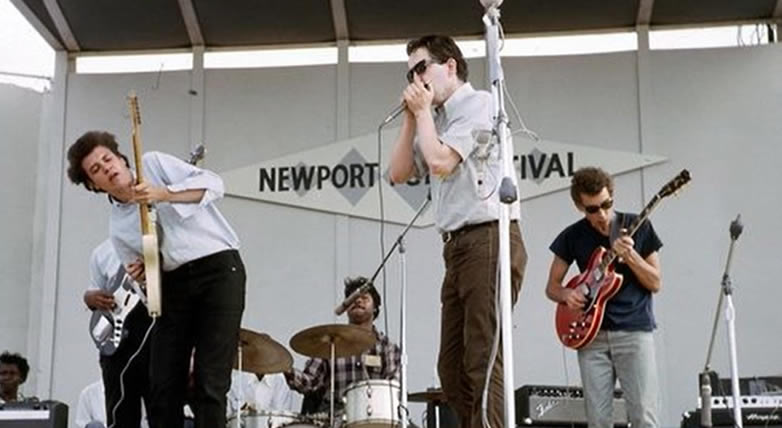 The rest of the album consists of cover songs. "Mystery Train" is an Elvis cover, written by Sam Phillips, a great song but unfortunately this version doesn't do much to advance the original, more famous version from a decade earlier. Walter Jacobs' "Last Night" is a standard slow blues cover, leading to the closer "Look Over Yonders Wall", written by James Clark in the 1940s.
Along with its follow-up East-West (1966), the Paul Butterfield Blues Band established itself as the standard-bearers of Chicago-style blues. Despite this success, the group went through several lineup changes before the group disbanded in 1971. Both Butterfield and Bloomfield had untimely, drug-related deaths in the 1980s.
~