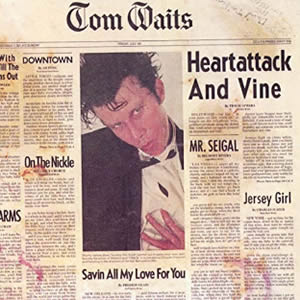 The seventh album by Tom Waits, 1980's Heartattack and Vine is a transitional album which features a wide array of styles and moods. The album was Waits' final release with Asylum records and has been cited as marking the end of his musical evolution through late-night barroom scenes that progressed through his earliest recording career in the 1970s while offering glimpses of the direction his music would point towards in the 1980s. With these nine tracks, Waits presents core blues, jazz, folk and theatrical compositions performed in his emerging and unique style with poetic lyrics delivered with his over-the-top growling vocals.
A native of Southern California, Waits began performing at San Diego area coffeehouses in the late sixties before migrating north to Los Angeles. While performing at the Troubadour in West Hollywood, Waits met David Geffen, who had recently launched Asylum and was interested in signing him to a record contract. Starting with his debut album Closing Time in 1973, Waits released six albums through the decade. While developing an original style, Waits' sound evolved along the way from folk to jazz to some rock elements on 1978's Blue Valentine, after which Waits became dissatisfied with the merged Elektra-Asylum label.
Director Francis Ford Coppola enlisted Waits to write a soundtrack for his film, One from the Heart, a project about which Waits was very excited, However, he still contractually owed Elektra-Asylum one album, so he halted the Coppola project to return to the studio in June 1980 with producer Bones Howe and record what would become Heartattack and Vine.
Heartattack and Vine

by

Tom Waits
Released: September 9, 1980 (Asylum)
Recorded: Filmways/Heider Studio B, Hollywood, CA, June-July, 1980
Produced by: Bones Howe
Track Listing
Primary Musicians
Heartattack and Vine
In Shades
Saving All My Love For You
Downtown
Jersey Girl
'Til The Money Runs Out
On The Nickel
Mr. Siegal
Ruby's Arms
Tom Waits
Lead Vocals, Guitar, Piano
Roland Bautista
Guitars
Ronnie Barron
Piano, Organ
Plas Johnson
Saxophone
"Big John" Thomassie
Drums
The opening title song is an electric blues tune which deliberately paces musically, in slight contrast to Waits' rapid vocals. "Heartattack and Vine" is structured with continual verses, many of them repeated, as the song unfolds. Next comes the cool soundtrack-like instrumental "In Shades", which equally showcases Roland Bautista's electric guitar and Ronnie Barron's Hammond organ within a "live" club atmosphere. "Saving All My Love for You" is a simple piano ballad with some slight, simple orchestration accompanying Waits' confessional lyrics.
The sloshy blues rock "Downtown" is the closest thus far to a radio-friendly track as it features Waits at his vocal best, leading to the side one closer and showcase, "Jersey Girl". This fantastic song quietly and subtly arrives before it expertly leaves plenty of room for vocal dynamics throughout. This romantic ballad was later famously covered by Bruce Springsteen. The flip side of the record begins with the beat and deadened riff driven driven "'Til the Money Runs Out", which alternates between storytelling lyrics and cool instrumental sections.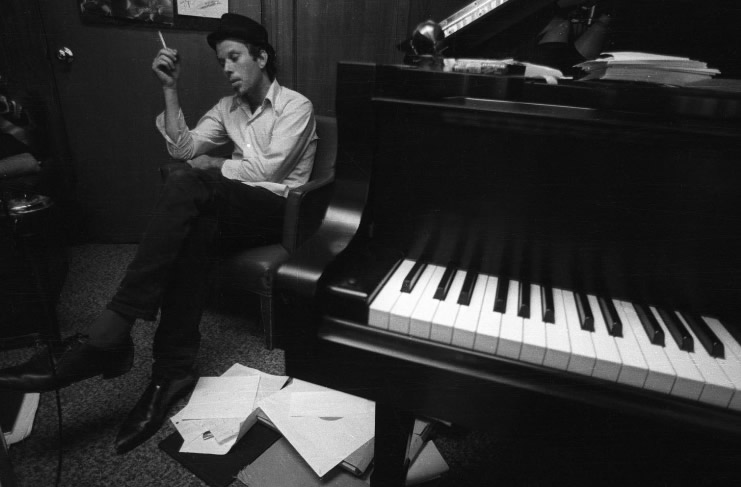 A film-like like orchestration by Bob Alcivar introduces "On the Nickel", which in fact became the title track of Ralph Waite's film of the same name. This child-like folk song features a large dose of melancholy throughout as it speaks of several examples of lost boys setting off in life facing the wrong direction. The New Orleans style piano tune "Mr. Siegal" is entertaining, but very repetitive through its over five minute duration, leading to the closer "Ruby's Arms". This final sad ballad has its narration accompanied by rich and original orchestration by Jerry Yester delivered in a Baroque style that makes it rather unique among ballads.
Critically acclaimed, Heartattack and Vine broke into the Top 100 on the US album charts and became Waits' first minor hit world wide. Following this album's release, Waits returned to set of Coppola's One from the Heart, where he met an assistant story editor who would eventually become his wife. When the film and soundtrack were released in 1982, Waits received mainstream audience exposure for the first time in his career.
~
Tom Waits online