Pennsylvania Blues Festival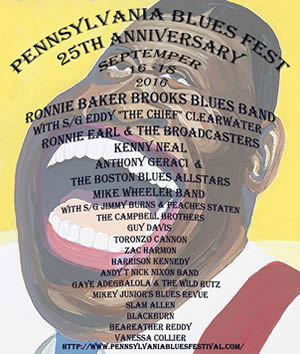 Formerly known as the Pocono Blues Festival, the Pennsylvania Blues Festival will celebrate its 25th annual show at Split Rock Resort in Lake Harmony, PA, September 16-18, 2016. This multi-stage event will take place both outdoors and indoors throughout this popular Pocono Mountain resort with related activities taking place at venues throughout the community of Lake Harmony. 2016 marks the first time that this festival will take place in September, with each previous event taking place in either late July or early August, but the change in NASCAR's schedule at nearby Pocono International Raceway caused a logistical conflict which made it necessary to move the festival to a weekend later in the season.
Organizer Michael Cloeren takes pride in the authenticity of the music presented at this festival as well as the quality of the blues music fans who attend each year. Attendees regularly come from about 25 states and Canada and this year's festival expects and attendance somewhere around 5,000. Aside from the live music, the festival will feature food and craft vendors and an exclusive Masterclass instructed by Sunday's main stage headliner Ronnie Earle. Other highlights at this year's festival include Toronzo Cannon, who was just signed by Alligator Records, folklorist Guy Davis and Kenny Neal who is making his sixth appearance at the festival. Also performing for 2016 is Zac Harmon, Anthony Geraci & the Boston Blues Allstars, The Ronnie Baker Brooks Blues Band, Slam Allen, Blackburn, The Campbell Brothers, Andy T Nick Nixon Band, Toronzo Cannon, Delmark Chicago Revue, Vanessa Collier, Harrison Kennedy, Andy T Nick Nixon Band and Beareather Reddy.

Cloreren says he books differently than most promoters and likes to choose acts from three general groups – one third classic festival artists, one third of newer artists or those who have never played the festival before, and one third artists from a geographical distance, usually west of the Mississippi. In all these cases, he says he looks for artists that are the "real deal", being rooted in the blues from the beginning of their career. The promoter of several festivals, Cloreren encourages people to come out to this one because; "even if they think they don't like blues, its a music fest and coming may change your life", adding "blues enthusiasts are the best people."
~
Pennsylvania Blues Festival online


Pennsylvania Blues Festival website
Michael Cloeren Productions