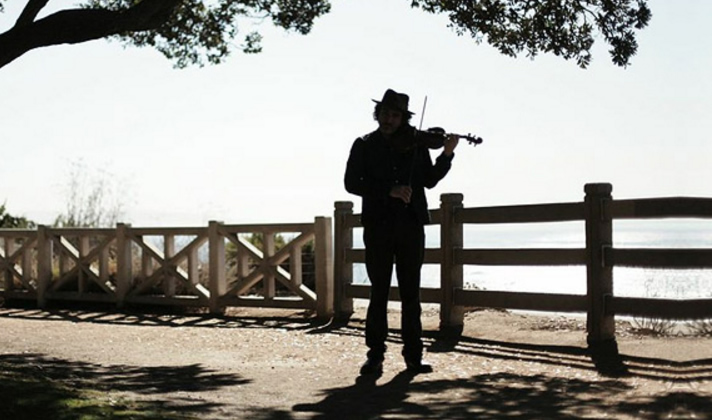 Combining an ecosystem of rich musical influences with a passion to create and perform, Chris Murphy is in the process of unleashing a tidal force of original, organic and entertaining music through his new label Teahouse Records. Starting early in 2016 with the accessible pop/rock album Surface to Air and continuing with the late summer release of the down-home flavored Red Mountain Blues, Murphy and company are currently a third of the way through their planned six album musical campaign. Each of these albums were were written and recorded by Murphy in the recent years and each has its own niche in a vast array of styles and all are centered around Murphy's virtuoso violin fiddling.
This artist has been at it for about a quarter century as a performer, recording artist and musical instructor. Throughout this time span, Murphy has built an impressive portfolio of solo and collaborative works along with cameo appearances on records by established artists. Originally from New York City, he drew upon the disparate and eclectic sounds of his Irish/Italian neighborhood, from Italian-mandolin music to bluegrass and folk to Latin music to rock and roll. Later he learned Eastern and other influences as well as composition at Simon's Rock of Bard College and the New England Conservatory of Music. Along the way, Murphy learned to play guitar, mandolin, percussion and some Eastern instruments before focusing his mastery on the violin.
Now based in Los Angeles, Murphy earns his living by performing, working on music for film, and as the "Dean of Musical Zen" at The Black Tree School, where he teaches guitar, mandolin and violin.
Surface to Air

by

Chris Murphy
Released: February 1, 2016
Produced by: Chris Murphy and Joshua Cutsinger
Track Listing
Primary Musicians
Sailing the World Alone
That Just Might Do the Trick
Surface to Air
The Blacksmith's Fancy
Dead Weight
Vernon Tool & Die
Last of the Twickhbam Blackbirds
The Oscar Wilde Waltz
Elmira Prison Camp
Wish You Well
Bugulusa Blues
Nothing Good Happens
Music for a Feast
The Hunter & the Fox
Chris Murphy
Lead Vocals, Violin, Mandolin, Guitar
Joshua "Cartiar" Cutsinger
Guitar, Theramin, Percussion, Vocals
Nate Laponte
Guitar, Vocals
Tom Moose
Mandolin, Guitar
Ted Russell Kamp
Bass
Michael Jerome Moore
Drums
The accessible sounds of Surface to Air are spread throughout this diverse album, which primarily hits on themes of heartbreak, desperation and forgotten dreams lyrically. "Sailing the World Alone" kicks off the album with a rich, folk-rock arrangement and seems to hearken back to Murphy's 2014 album, Boat Songs. Next comes the upbeat country/pop jam "That Just Might Do the Trick" with some philosophical lyrics such as;
a man only has but one destiny, it's got a mind of its own, best to let it be…"
The title track "Surface to Air" is the first place where Murphy's violin takes front and center stage. Overall this track has a nice, subtle musical arrangement featuring rounded bass notes and a mix of dry drums and percussion by Brian McLeod and Andy Reilly. "The Blacksmith's Fancy" is the first of several instrumentals on this album with an animated fiddle over steady rhythm and beats, while "Dead Weight" is almost new wave in style and features an electric guitar lead and some solo drum beats later on by Adam Gust.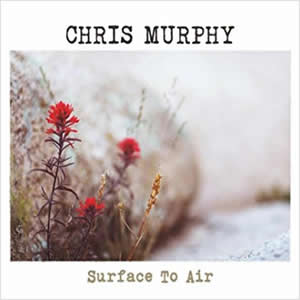 The middle part of Surface to Air features the most quality music on the album. "Vernon Tool & Die" has a jazzy underlying feel with strong acoustic strumming and lead, bluesy/jazz rhythms and piano by Dave Schulz in an overall very interesting and unique track. "Last of the Twickham Blackbirds" features a bright, upbeat acoustic which sets the bedding for a violin lead-in to the pop-oriented verses, similar in vibe to The Wallflowers, with organ textures and steady rhythms throughout. The aptly titled "The Oscar Wilde Waltz" is the best overall violin showcase on this album as Murphy's exquisite playing is backed by strummed acoustic and subtle bass notes. "Elmira Prison Camp" is a pleasant Americana/rock song with fine vocal melodies and backing harmonies, telling the story of a Confederate prisoner of war in a Northern camp. "Wish You Well" is a somber breakup song with rapid strumming, shuffling drum beats and good bass by Hal Cragin.
Surface to Air winds down with a trio of instrumentals; the excellent funk of "Bugulusa Blues", the extended lead sections of "Music for a Feast" and the solemn mandolin-led "The Hunter & the Fox". In between these is the slide-acoustic fused "Nothing Good Happens" with an outlaw country flavor.
Red Mountain Blues

by

Chris Murphy
Released: August 19, 2016
Produced by: Chris Murphy and Joshua Cutsinger
Track Listing
Primary Musicians
Red Mountain Blues
Dirt Time
High Country
Black Roller
Kitchen Girl
Cast Iron
Dry County
Walt Whitman
Dig for One Day More
Buckwheat Pancakes
Meet Me Tonight
Johnson County
Chickasaw Fredman
The Lord Will Provide
Chris Murphy
Lead Vocals, Violin
Nate Laponte
Guitar, Vocals
Tom Moose
Mandolin, Guitar
Ted Russell Kamp
Bass
DJ Bonebrake
Drums, Percussion
Unlike the previous album, which touches on many sub-genres, Red Mountain Blues is more focused in on the folk/country/bluegrass strain and also acts as more of a direct showcase for Murphy and his sidekick musicians called "The Devil's Box". This all begins with the opening title instrumental, which features several turns of lead instruments through this moderately paced jam before Murphy's fiddle takes center stage.
There is excellent sound quality throughout, each and every song is upbeat and entertaining. This title track is just the first of many instrumentals on Red Mountain Blues, including the pleasant and hypnotic "High Country", the rapid string-led "Cast Iron", the moderate and romantic piano and violin of "Walt Whitman", the banjo and fiddle stomp of "Buckwheat Pancakes" and "The Lord Will Provide", the acoustic outro to the album, which starts mellow and somber but picks up halfway through.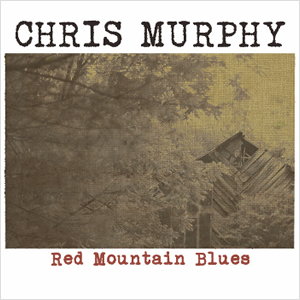 As for the tracks with lead vocals, there are plenty of pleasant tunes here. "Dirt Time" is slightly country and slightly Celtic folk with Murphy's fiddle licks between the verses and some harmonized vocals by Herb Pedersen in the choruses. "Black Roller" leans more towards bluegrass with some Gospel elements lyrically, while "Kitchen Girl" is the most country-influenced thus far with a down home feel and good hook and it features mandolin player Tim O'Brien on lead vocals. "Dry County" has some staccato rudiments before launching into a banjo-fueled arrangement, while the darker and more dramatic "Dig for One Day More" is a diddy about the hardships of coal miners. "Meet Me Tonight" works as a traditional country/pop track before the album winds down with a few sparsely arranged tracks, the old west vibe of "Johnson County" and Murphy's solo fiddle and vocals on "Chickasaw Freedom".
Beyond  his vocation as a working musician, Murphy is also a sort of musical philosopher who dismisses reports of the music industry's demise because music itself is timeless, stating;
"In another era I would have played square dances, and loved it. I would have been a court musician in Versailles in the 17th Century, or a violinist in a circus orchestra…"
Murphy continued touring and recording as well as broke his music into the European market. A follow-up release called The Tinkers Dream was released in early 2017.
~
Chris Murphy online