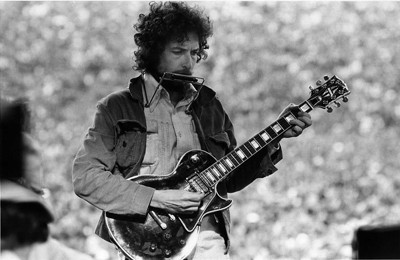 In an unprecedented move, Bob Dylan has become the first musical composer to win the Nobel Prize in Literature on Thursday, October 13th. Although Dylan had been speculated as a possible Nobel winner throughout the years, today's selection was a huge surprise for those attending the prize announcement in Stockholm.
Born Robert Zimmerman, he adopted his stage name from poet Dylan Thomas. The 75-year-old, self-taught musician, has been performing, recording and composing for well over a half century and over that span has released 37 studio albums, 11 live albums, and a dozen editions of "bootleg" collections. Dylan has also been the subject of and starred in several films and published several books. His most potent work in recorded music came in the mid 1960s with classic albums such as The Freewhelin' Bob Dylan, The Times They Are a' Changin', Bringing It All Back Home, Highway 61 Revisited and Blonde On Blonde. This latter album was cited by the Nobel Academy's permanent secretary Sara Danius, who also said that Dylan's songs were "poetry for the ears".
Dylan forged his sound with influence from Delta blues and folk music, most pointedly Woody Guthrie, as well as rock icons like Elvis Presley. He adopted his surrealistic lyrical style from many poets and authors such as Arthur Rimbaud and Anton Chekhov. Dylan will receive this unexpected Nobel prize on December 10th and it will sit on his trophy case along with his 11 Grammy awards, Golden Globe award and 2001 Oscar for best original song.
~
Bob Dylan Online