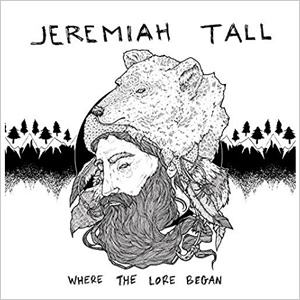 Pennsylvania native Jeremiah Tall is a roots musician who draws musical inspiration from the mountains and great outdoors while his lyrics range from the tall tales of his youth to the realities of everyday life. On his latest full length album, Where the Lore Began, Tall delivers eleven tracks of strong but sparsely-arranged tunes that are melodic and potent and just diverse enough to make for an interesting listen from beginning to end.
Tall performs a one-man show where his vocals are accompanied by a variety of instruments including acoustic guitar, banjo, and mandolin. He also adds an occasional harmonica lead and keeps a steady stomp with a custom kick drum converted from a hand painted suitcase. This 2015 album follows his 2014 EP Waking, which was produced by Bill Moriarty. For Where the Lore Began, Moriarity co-produced with Tim Bostwick as well as Tall, who did some independent recordings.
"Almost Heaven" kicks off as a short, banjo-fused stomp with the repeated chorus being the entirety of the lyrics in this minute-long song. "A Heart at War" follows as a pop-oriented blue grass tune with some strategic stops for good effect and a fine harmonica solo. "Hard Working Man" finds Tall nearly solo on mandolin with the slightest rhythmic arrangement and great vocals throughout, while "I Got a Name" is a banjo led folk jam with a middle section a cool clapping/percussion. "Where The Dandelions Roam" is a slightly melancholy ode to a love of nature not shared by a significant other and features good acoustic guitar action, where "Moonlight" is the first song with a rich arrangement, including a Farfisa organ by Ben Mazz as well as a richer bass and vocal effects, which works to give this short track a haunting feel.
Another pleasant but haunting acoustic folk, "Never Surrender" is decorated with some strings for a cool vibe as the lyrics tell of armed resistance and the harmonica lead is an overall highlight on the album. "Time" is a much brighter song than the preceding cuts, almost a celebratory love song all performed above a scratched out banjo riff, sparse but effective bass and some slight backing vocals in the chorus. "Two Timing Tommy" is a working-class acoustic guitar folk song about a bank robbing anti-hero. The inclusion of Erica Erenyi on cello and Jamie Shadowlight on violin really work here to make this a dark and direct tune. "Working For" is a moody track about a worn out laborer and this features another rich arrangement with thumping rhythms and some very potent vocal dynamics. The album concludes with "Salvation", which completes the loop as a banjo track with lyrics that are dramatic and a vocal delivered with much desperation.
Since the release of Where the Lore Began in October 2015, Jeremiah Tall has continued to play heavily in the Northeast and in 2016 began to tour across the USA as a supporting act.
~
Jeremiah Tall online