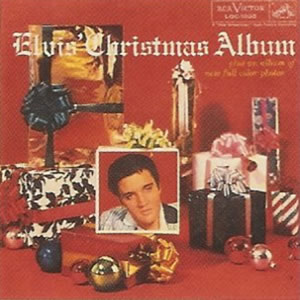 Released during the height of Elvis Presley's initial popularity, the original 1957 release Elvis' Christmas Album found popularity both initially and through the subsequent decades. This fourth studio album by the eventual "king of rock and roll" consists of a mix of traditional Christmas and contemporary Gospel songs and spent four weeks at the top of the American Pop Albums chart and found repeated success in several subsequent reissues and formats.
Following his initial recordings with Sam Phillips at Sun Records, Presley signed with RCA at the beginning of 1956 and released his self-titled debut in march of that year. Here, along with his Presley's initial appearance on national television shows, sparked a meteoric rise in popularity throughout 1956 and into 1957. Over this period, Presley released two more LPs, Elvis and Loving You, both of which reached number one on the album charts.
Through this period, Elvis had a strong backing band consisting of guitarist Scotty Moore, bassist Bill Black and drummer DJ Fontana, who joined him on live occasions as well as in the studio. Elvis' Christmas Album consisted of eight Christmas-themed songs recorded over three days in September 1957 along with four Gospel songs recorded earlier in year for an EP entitled Peace in the Valley. Along with the core rhythms section and several keyboardists, Presley is backed on most tracks by a vocal ensemble known as "The Jordanaires".
Elvis' Christmas Album

by

Elvis Presley
Released: October 15, 1957
Produced by: Steve Sholes
Track Listing
Primary Musicians
Santa Claus Is Back In Town
White Christmas
Here Comes Santa Claus
I'll Be Home for Christmas
Blue Christmas
Santa Bring My Baby Back (To Me)
O Little Town of Bethlehem
Silent Night
(There'll Be) Peace In the Valley (For Me)
I Believe
Take My Hand, Precious Lord
It Is No Secret (What God Can Do)
Elvis Presley
Lead Vocals, Guitars
Scotty Moore
Guitars
Dudley Brooks
Piano
Gordon Stoker
Piano
Hoyt Hawkins
Organ
Bill Black
Bass
DJ Fontana
Drums
The album's upbeat first side begins with one of two songs commissioned for this album. Written by Jerry Leiber and Mike Stoller, "Santa Claus Is Back in Town" is an excellent blues rock tune which was composed on the spot in the studio and gets the album off to a rollicking start. "White Christmas" follows as a slow and jazzy rock version, built on low piano notes to offer a canvas for Elvis's unique vocal interpretation. The song was composed by Irving Berlin in 1942 for Bing Crosby and had charted during every Christmas season in the 15 years since its composition. Berlin was not happy with Presley's version of the song, calling it a "profane parody of his cherished yuletide standard".
The most iconic and longstanding classic from this album is Presley's interpretation of "Blue Christmas". Originally composed in 1948, Presley solidified this song as a rock-and-roll holiday classic with his dramatic vocals. Rounding out the first side are covers of Gene Autry's "Here Comes Santa Claus", a crooning ballad version of the World War II era classic "I'll Be Home for Christmas" and the second new song written for this album, "Santa Bring My Baby Back (To Me)", another pure Christmas rocker.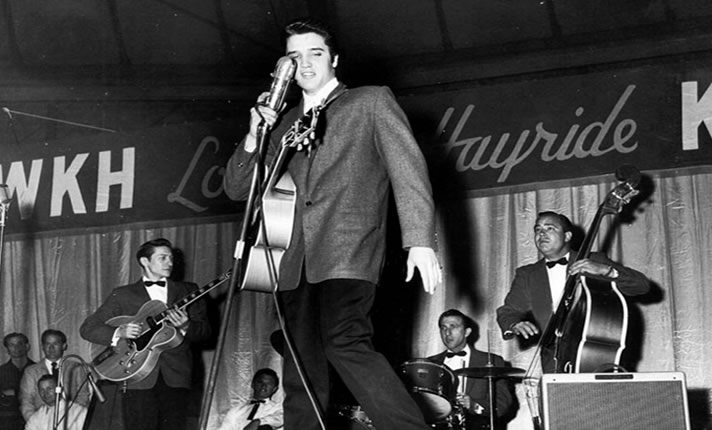 The album's second side features much more somber and religious-oriented music. In fact, it opens with two 19th century church hymns, "O Little Town of Bethlehem" and "Silent Night", which are delivered in their traditional, choir-like arrangements. The four Gospel songs which finish off the album are each done with a soulful vocal style by Presley. Two of these, "(There'll Be) Peace in the Valley (For Me)" and "Take My Hand, Precious Lord" were composed by the Reverend Thomas A. Dorsey, with the latter of these reportedly being Martin Luther King Jr.'s favorite song (in its original form by Gospel singer Mahalia Jackson). "I Believe" originated as a television show theme by Jane Froman, while the closing "It Is No Secret (What God Can Do)" may be the best of the lot of Gospel songs, delivered as a soft but rich fifties classic and becoming a major influence on Paul McCartney when he began recording with The Quarrymen the following year.
Through its many different versions, Elvis' Christmas Album has sold over 13 million copies in the United States alone. A few months after its release, Presley was conscripted into the U.S. Army which temporarily disrupted his incredible commercial momentum. Seven years after its original release, "Blue Christmas" was released as a single in 1964 and became a Top 20 hit worldwide.
~
Elvis Presley online