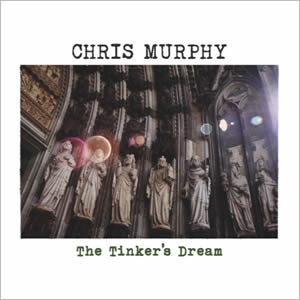 "Irish Fiddle Music" is stamped on the CD cover of Chris Murphy's latest release, The Tinker's Dream. However, that phrase may not aptly describe what awaits the listener who dares open the package to hear what it actually contains. The sounds are definitely steeped in traditional Irish sounds and instrumentation featuring fiddle, pennywhistle, mandolin, bodhran and bouzouki along with acoustic guitar, bass, piano and drums. However, the result is something more worldly. The songs leap and bound along painting lush landscapes with bright waves of sound, the sequencing is masterful as the journey is mapped through the sounds and feelings conveyed through the music.
Released on January 27, 2017, this is the third album in less than a calendar year by the Los Angeles based performer, recording artist and musical instructor, following the 2016 releases Surface to Air and Red Mountain Blues.
The Tinker's Dream

by

Chris Murphy
Released: January 27, 2017
Produced by: Chris Murphy
Track Listing
Primary Musicians
Connemara Ponies
Union of the Seven Brothers
The Tinker's Dream
Wicklow
Gibraltar 1988
Cape Horn
The Artful Dodger
Small Wonder
The Tower
Maritime Jig
The Thistlewood Bridge
The Hayloft Waltz
Chris Murphy
Lead Vocals, Violin, Mandolin, Guitar
Nate Laponte
Guitar, Vocals
Tom Moose
Mandolin, Guitar
Zac Leger
Bouzouki, Guitar, Flute, Penny Whistle
Trevor Hutchinson
Bass
Andy Reilly
Drums, Percussion, Bodhran
The album opens with three instrumentals, "Connemara Ponies", "Union of the Seven Brothers" and the tile track, "The Tinker's Dream". In "Connemara Ponies", one can imagine the traditional horses of Ireland galloping through emerald green meadows as the fiddle and mandolin dance along. "Union of the Seven Brothers" has a bit of a darker tone though it still feels as though there is hope and sunshine peering through a misty horizon, while "The Tinker's Dream" is a joyful dance of sunshine and happy thoughts with the fiddle dancing over the
steady percussion and accented flute.
The remaining highlights of the album include one of three songs with lyrics, "Small Wonder" which showcases Murphy's soothing vocal style, "The Tower" which is a simple jig featuring fiddle and acoustic guitar and a simple percussive beat which create a stunningly dramatic portrait, and "Cape Horn", one of several songs about travel and adventure at sea.
Cape Horn from The Teahouse Company on Vimeo.
Overall, The Tinker's Dream only contains three songs with words, but that does not keep it from speaking volumes. The instrumentation, arrangements and songwriting capture and convey moments exquisitely. This album also marks the midway point of Murphy's planned six releases over a short time span and so far his three albums have been diverse and entertaining.
~
Chris Murphy online