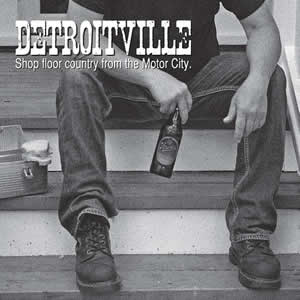 Proud motor city resident Nick Pivot released his debut Detroitville in 2015. This pure country, slightly comical EP features well produced songs with simple, accessible hooks and themes. The album was produced by Robert Crenshaw who took a classic country approach, inspired by the sounds of artists such as Tennessee Ernie Ford and Buck Owens. Several top-notch Detroit area musicians played on the record.
The "Nick Pivot" name was originally adopted as the pen name of journalist Mike Nickele when he was the news editor at Auto Week magazine. Nickele had previously worked in a Chrysler assembly plant while in college, all the while writing and performing music. Starting off in rock bands, Nickele eventually migrated towards country music and Nickele formed a duo called Skin and Bones, where the earliest versions of songs that appear on Detroitville were forged.
The EP begins with "A Box of Wine, a Bag of Weed and Judge Judy", the ultimate anthem of the unemployed slacker. "High and Inside" follows with more clever lyrics along with many bluegrass elements and a great slide guitar. The Best overall song on the album is "Honky Tonk Crowd", a pure slow country waltz with rapid mandolin, accordion, stand-up bass and a nice chorus of backing vocals behind Pivot's melancholy vocals. "Help Mr. Wizard" features a good mixture of blended electric and lap steel guitars along with a saxophone which gives this song a real musical edge, while the short but effective "Rock Town" is the closest to an actual rock song with well-treated, edgy vocals and a methodical drum roll throughout to complement a consistent electric guitar and bass riff.
The most indelible track on Detroitville is the quasi-theme track "Fuck You, I'm from Detroit", an intentional chant, which one can foresee being a classic in Detroit for decades to come. Musically, this acoustic-based track is joined by a slide guitar and crowd effects, while lyrically Pivot name drops a lot of Detroit musicians as well as cultural landmarks. As for the vulgar title of this track, Pivot shrugs it off as a "friendly 'howdy do'."
The sub-title to Detroitville is "Shop floor country from the Motor City", a complex yet common theme for this populist album.
~
Nick Pivot online