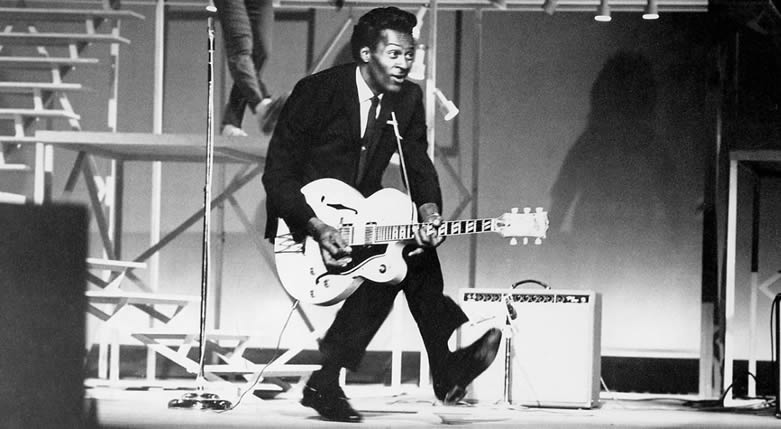 This past week the world lost an original music legend and rock pioneer when Chuck Berry passed away at age 90. A native of St. Louis, Berry began performing at a young age and would have various stages of his musical career with differing levels of success. Some of these stages met their terminal end as Berry spent one of several stints in prison throughout his adult life. Good and bad, Chuck Berry was original and inspirational for about the final seven decades of his life.
During these many decades now (and probably for many decades to come), the exact point of origin of rock n' roll has been disputed. Whatever the exact place in time, it is clear that the decade of the 1950s saw the fusion of traditional styles along with the adoption of new technologies to make new weird and wonderful sounds which would soon converge under the umbrella of this new popular genre. With this, there is little dispute about Berry's role in developing this new sound.
Entering the decade, Berry was a young husband and father who played in bands around St. Louis to earn an extra source of income to supplement his full-time industrial work. Berry gained much influence from blues musicians like T-Bone Walker and Ira Harris and soon entered into a long time collaboration with piano player Johnnie Johnson of the Johnnie Johnson trio. Here, Berry got his first exposure to country music, which he fused with his blues background to the extent that some referred to him as the "black hillbilly". To this end, Berry drew influence from country artists like Jimmie Rodgers and, on top of this unique musical mixture, Berry began to develop a distinct stage persona by incorporating unique dance moves, which helped accelerate his live popularity.
In 1955, Chuck Berry migrated to Chicago and struck up a professional relationship with blues legend Muddy Waters. In turn, Waters referred him to Leonard Chess of Chess Records as Berry prepared to be the next blues star at Chess, but was surprised when Chess was more interested in a traditional country fiddle tune called "Ida Red", which Berry had adapted. In the recording session, Berry recorded the song with new lyrics and the title "Maybellene". The result was a million selling mainstream pop song, which sparked Berry's career and initiated the his most commercially successful era.
During the year 1956 Berry released several more singles, with the most successful being the song "Roll Over Beethoven", as well as contributed several songs to the soundtrack for the film Rock Rock Rock. Then in 1957, Berry finally released his debut album After School Session which included twelve tracks completely written by Berry himself, a very rare accomplishment for rock artists of the era. By this time, Berry was on national tours with top artists like Buddy Holly, Fats Domino, Carl Perkins and the Everly Brothers, which brought him exposure in multiple markets as well as on television. One Dozen Berrys was his second all-original LP, released in 1958, and then he released on called Chuck Berry Is On Top, an apt title for Berry's position at the end of 1950s.
However, the next of several legal downfalls had a crippling effect on Berry's career trajectory. He was convicted for transporting a teenage girl across state lines and eventually served a year and a half in prison in 1962 and 1963. Through most of the decade of the 1960s, Berry was more successful as an influence (to popular rock/pop groups like the Beatles, Rolling Stones and the Beach Boys) than as a first-person musical artist. Although he did return to slight commercial success in the early seventies, Berry would spend the long expanse of the rest of his life mainly as an undisputed rock legend.