Buy The Freewheelin' Bob Dylan
Buy The Times They are a Changin'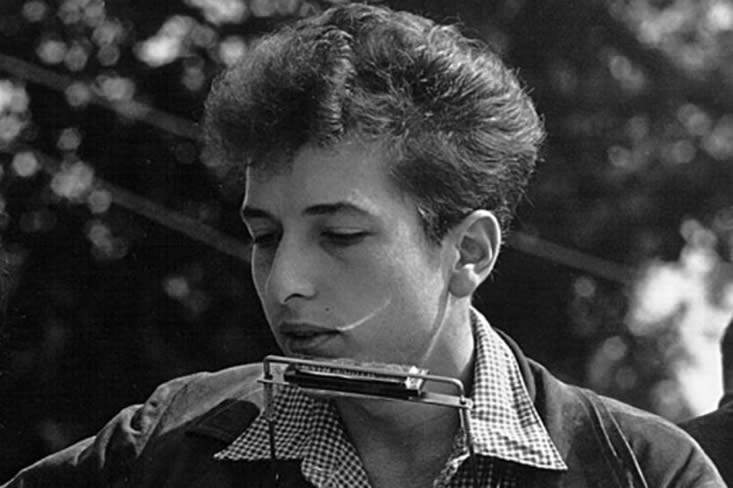 "The songs are there. They exist all by themselves just waiting for someone to write them down. I just put them down on paper. If I didn't do it, somebody else would."
This was a response that Bob Dylan had to an inquiry on his prolific song writing in 1962 and 1963. At that point in his career, these songs were performed exclusively in cafes and nightclubs in New York City. Dylan had released a self-titled debut album in March 1962 which consisted mostly of folk standards and sold so poorly that Columbia Records was considering dropping the young artist from his contract.
With this backdrop, Dylan took a full year to compose, record and distinguish a style of writing contemporary words to traditional melodies for his second release, The Freewheelin' Bob Dylan, released on May 27, 1963. With this, Dylan's penned topical lyrics derived from contemporary situations such as the Cold War fear of nuclear warfare and the struggle for civil rights. Ultimately, eleven of the thirteen songs on this album are Dylan originals, showcasing for the first time his extraordinary songwriting talent.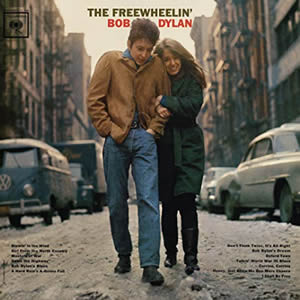 Recording began in April, 1962 at Columbia studios in New York City with producer John Hammond. Early on, the scorching "Talkin' John Birch Paranoid Blues", a song which was released only on the earliest pressings of the album but excluded later due to controversy within Columbia and CBS, was recorded. A more fruitful session came later in the summer of 1962 with the inclusion of "Blowin' In the Wind", the album's opening track and this artist's initial success. Adapted from a spiritual sung by former slaves in the early 1800's, this song was at once a contemporary folk "protest" song and a unique evocation of biblical sentiment. "Blowin' In the Wind" was soon recorded and released by Peter, Paul and Mary in 1963 and it shot into the Top 5 on the pop charts, setting a successful cover precedent for Dylan songs which would persist through the 1960s. Other album tracks recorded during this July session include the slightly satirical "Bob Dylan's Blues", the blues-influenced "Down the Highway", and the cover "Honey, Just Allow Me One More Chance".
Through the Autumn and Winter of 1962, Dylan returned to the studio with more fruitful recordings. In late October he made his first studio recordings with a backing ensemble for a cover of the Mississippi Sheiks' track "Corrina, Corrina". This group also recorded the non-album rockabilly single, "Mixed-Up Confusion", released on December 14, 1962. In November, the ballad "Don't Think Twice, It's All Right" was recorded as a response to the news that Dylan's long-distance girlfriend Suze Rotolo (who appears with him on the album cover) had decided to stay in Italy indefinitely, effectively ending the relationship. An early December session included more Dylan originals for the album, such as "I Shall Be Free" (a rewrite of Lead Belly's "We Shall Be Free"), "Oxford Town", and the incredible "A Hard Rain's a-Gonna Fall". This beautiful, complex and episodic song was first performed in full during Dylan's initial performance at Carnegie Hall in September 1962, and the song seemed incredibly significant during the Cuban Missile Crisis a month later.
After a short tour of Europe, Dylan returned to New York for a final album recording session in January 1963 with producer Tom Wilson. This final session included "Girl from the North Country" (an adaptation of the English folk standard "Scarbrough Fair", later re-recorded with Johnny Cash for the 1969 album Nashville Skyline), the scathing, anti-military-industrialist "Masters of War", the slightly comical "Talkin' World War III Blues", and "Bob Dylan's Dream", which was based on the melody of the traditional "Lady Franklin's Lament".
The Freewheelin' Bob Dylan reached the Top 30 in the US but rose all the way to the top in the UK. The album would later go platinum and become one of the first 50 recordings chosen by the Library of Congress to be added to the National Recording Registry.
The Freewheelin' Bob Dylan
Released: May 27, 1963
Produced by: John Hammond & Tom Wilson
Blowin' In the Wind
Girl from the North Country
Masters of War
Down the Highway
Bob Dylan's Blues
A Hard Rain's a-Gonna Fall
Don't Think Twice, It's All Right
Bob Dylan's Dream
Oxford Town
Talkin' World War III Blues
Corrina, Corrina
Honey, Just Allow Me One More Chance
I Shall Be Free
The Times They Are a-Changin'
Ballad of Hollis Brown
With God on Our Side
One Too Many Mornings
North Country Blues
Only a Pawn in Their Game
Boots of Spanish Leather
When the Ship Comes In
The Lonesome Death of Hattie Carroll
Restless Farewell
Bob Dylan – Lead Vocals, Guitar, Harmonica
Much like it's predecessor, The Times They Are a-Changin' was recorded over multiple sessions (but with Wilson taking on the producer role throughout) while Dylan forged ground-breaking events in between sessions. This third album by the artist was the first to feature only original compositions made up of sparsely arranged, stark topical tunes concerning the issues of the day. While not as historically critically acclaimed as its predecessor, this album further cemented Dylan's reluctant role as a 1960s cultural icon.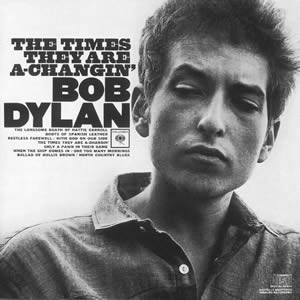 Sessions began in August 1963 with a re-recording of a song rejected for the Freewheelin' album, "Ballad of Hollis Brown". Well ahead of it's time, "North Country Blues" speaks of outsourcing jobs to markets with cheaper labor and is likely referencing Dylan's childhood hometown of Hibbing, Minnesota. Also recorded in August were a couple of overtly political tunes – the anti-war "With God on Our Side" and "Only a Pawn in Their Game", which was first performed at a rally in Mississippi and refers to the murder of civil rights activist Medgar Evers. "Boots of Spanish Leather" was also recorded as a second reinterpretation (following "Girl from the North Country") of the English folksong "Scarborough Fair".
Later in August of 1963, Dylan performed at Martin Luther King Jr's civil rights march on Washington, DC along with fellow folk artist (and brief girlfriend) Joan Baez, followed by a short tour by the couple. It was also during this time period that the artist legally changed his name to Bob Dylan and officially ceased being Robert Zimmerman, Finally in late October, Dylan continued recording in a series of sessions to complete his third album.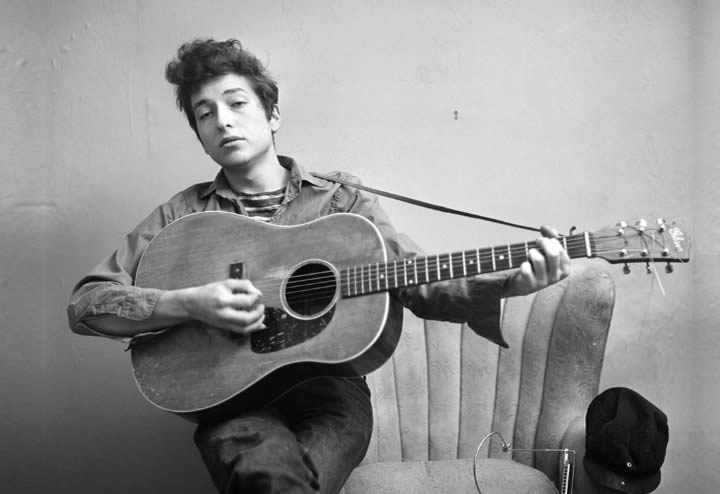 Most prescient of this group of recordings was the opening title song, "The Times They Are a-Changin'", which Dylan has stated was a deliberate attempt to create an anthem for change. Musically influenced by by Scot/Irish ballads, this track features concise, rhythmic lyrical verses which Dylan later described as "the only words I could find to separate aliveness from deadness." The October sessions also included the ballad "One Too Many Mornings", "The Lonesome Death of Hattie Carroll" which was influenced by a real life homicide that took place earlier in 1963, the imaginative "When the Ship Comes In", and "Restless Farewell", the album's closer which borrows its melody the traditional folk song, "The Parting Glass".
Released in January 1964, some critics have categorized The Times They Are a Changin' more as a politically cynical record with a genius mixture of irony and satire than a cohesive musical gem. Still, it's overt timeliness was further evident with the assassination of President John F. Kennedy, which happened between the album's recording and its release and proved to send indelible shock waves throughout American life and culture. Ever the independent, Dylan completely changed thematic direction on his next album, Another Side of Bob Dylan. Released later in 1964, this would be a final "solo" folk album before Dylan once again shocked his audience and critics by "going electric" and releasing a quartet of masterpieces through the mid 1960s, Bringing It All Back Home (1965), Highway 61 Revisited (1965), Blonde On Blonde (1967) and John Wesley Harding (1968). With these, it appeared that once again Bob Dylan was a year or two ahead of the culture and music industry as his times continued to change.
~
Bob Dylan Online