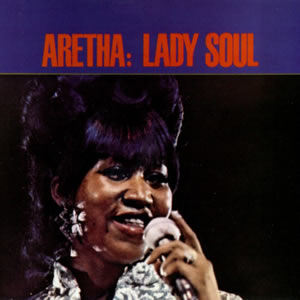 Entering 1968 Aretha Franklin was on the verge of pop superstardom following a string of hits throughout 1967. The January 1968 release Lady Soul, Franklin's fourteenth overall studio album, captures this momentum by combining a fine mix of pop singles, interpretive covers and thoughtful, original compositions. This album also marks a step in Franklin's long evolution from Gospel music towards a more mainstream pop and soul sound.
Aretha Franklin began singing Gospel in her early teens and, at age 18, caught the attention of Columbia Records in 1960. Through the early to mid sixties Franklin released 10 studio albums and scores of singles with Columbia with some notable success on the R&B charts but little waves on the mainstream pop charts. In late 1966 Franklin signed to Atlantic Records and soon traveled to FAME Studios in to Muscle Shoals, Alabama to record her first Top Ten hit, "I Never Loved a Man (The Way I Love You)", with her album of the same name becoming her Atlantic debut LP. Driven by her signature version of Otis Redding's "Respect", the album went gold and reached the Top 5 of the mainstream album charts.
Along with producer Jerry Wexler, Franklin looked to continue this success as she recorded at Atlantic studios in New York City in late 1967. Joining Franklin in the recording of Lady Soul was a top notch R&B backing band along with some guest musicians and a group of backing Gospel singers which included Cissy Houston (mother of Whitney Houston) and Aretha's sisters Carolyn & Erma Franklin.
Lady Soul

by

Aretha Franklin
Released: January 22, 1968
Produced by: Jerry Wexler
Track Listing
Primary Musicians
Chain of Fools
Money Won't Change You
People Get Ready
Niki Hoeky
(You Make Me Feel Like) A Natural Woman
Since You've Been Gone (Sweet Sweet Baby)
Good to Me as I Am to You
Come Back Baby
Groovin'
Ain't No Way
Aretha Franklin
Lead Vocals, Piano
Bobby Womack
Guitars
Jimmy Johnson
Guitars
Spooner Oldham
Keyboards
Tommy Cogbill
Bass
Roger Hawkins
Drums
The album commences with its lead single and Top 5 hit song, "Chain of Fools". Written by Don Covay, the track is driven by a great rhythm provided by bassist Tommy Cogbill and drummer Roger Hawkins, which lays a solid foundation for the song's soaring lead vocals and rich harmonized chorus. "Money Won't Change You" is a fast and dynamic cover of a James Brown tune with some great horns highlighting the song musically. Franklin then returns to her Gospel roots with an original, soulful rendition of Curtis Mayfield's "People Get Ready".
A fun bass-driven funk dance song, "Niki Hoeky" follows as a lead-up to the climax of the album's first side, "(You Make Me Feel Like) a Natural Woman". Written by the legendary songwriting team of Gerry Goffin and Carole King, this track has a great atmosphere with a nice sonic balance of warmth along with a rich orchestral arrangement, a true testament to Wexler's production skills. Issued as a single in 1967, "(You Make Me Feel Like) A Natural Woman" had already been a big hit prior to the release of Lady Soul, but it works very well within the sequence of this LP.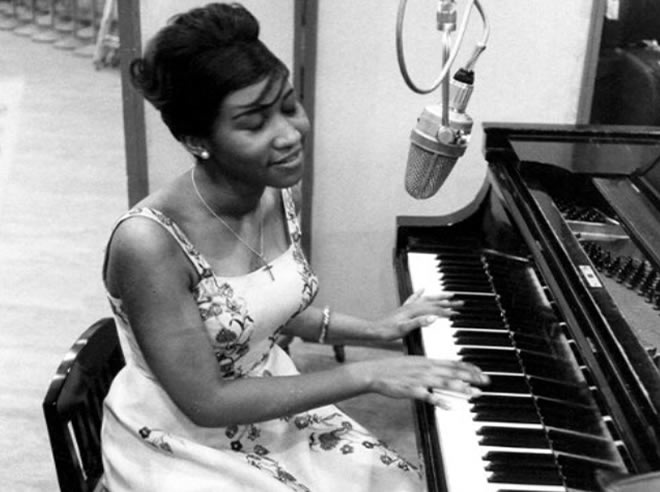 While the second side features less big hits, there are five more quality and entertaining tracks, starting with Franklin's two original compositions. "(Sweet Sweet Baby) Since You've Been Gone" has probably the most excitable lead vocals on the album with the singer also providing a cool little piano lead. Franklin further displays her piano skills on the soulful, Ray Charles-like ballad "Good to Me As I Am to You", which features bluesy guitar licks by guest Eric Clapton. The Walter Davis tune "Come Back Baby" is a song firmly planting the seeds of soul and is notable for the penny whistle organ by Spooner Oldham, while "Groovin'" is an interesting interpretation of the Young Rascals' hit song. The album concludes with Carolyn Franklin's "Ain't No Way", a moody and exquisite ballad by Aretha's sister who also delivers fine, distant backing vocals for this tender gem.
Lady Soul became Aretha Franklin's second R&B chart-topper and reached #2 on the Pop Albums chart. Shortly after its release, Franklin earned her first Grammy Award for Best Female R&B Vocal Performance as well as received the SCLC Drum Beat Award for Musicians from Dr. Martin Luther King, Jr. Franklin's musical success and growing legend continued through the following years and decades.
~
Aretha Franklin Online