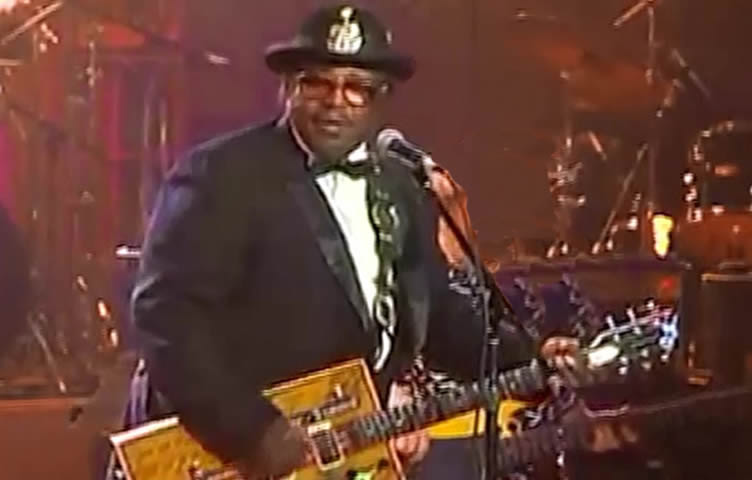 This week marks the 60th anniversary of Bo Diddley's 1958 self-titled debut album, a compilation of multiple pre-released singles from the mid 1950s. Although this artist, born Ellas Otha Bates and later changing his name to Ellas McDaniel, only had charting hits into the early sixties, his incredible influence, musical longevity and developer of one of rock n' roll's most signature beats, have combined to make Bo Diddley a true legend. He was also one of the earliest popular artists to compose all of his own tunes and co-produce his records.
Born in Southern Mississippi in 1928, Ellas was adopted and raised by his mother's cousin, whose surname he assumed. The McDaniel family moved to Chicago in the mid 1930s where Ellas become proficient on the violin and joined an orchestra as a teen. However, after attending a performance by blues legend John Lee Hooker, he immediately switched to guitar and began playing on street corners to supplement his income. Fellow street musician, percussionist Jerome Green, became the first in the foundation of what would become McDaniel's backing band for decades to come.
In 1954, harmonica player Billy Boy Arnold, bassist Roosevelt Jackson and drummer Clifton James rounded out the group as McDaniel signed with Chess records and recorded his initial tracks "I'm a Man" and "Bo Diddley". Released in March 1955 as a double-sided single, "Bo Diddley"/"I'm a Man" worked to both top the R&B charts and give McDaniel his new stage name.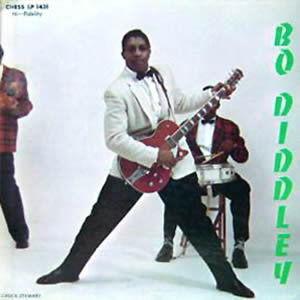 The Bo Diddley 1958 album, included singles released form 1955 through early 1958 and produced by studio owner Leonard Chess & Phil Chess along with Diddley. This essential collection features twelve original cuts, including the 1956 hit "Pretty Thing" and the 1957 classic "Before You Accuse Me", featuring the legendary Willie Dixon on bass, While this latter single was not an immediate hit for Diddley, it would be made popular by Eric Clapton in the late 1980s. Beyond the hits, this album features several of his most enduring songs, including several tracks that incorporate the Diddley stage name, such as "Hey! Bo Diddley", "Diddley Daddy" and "Diddy Wah Diddy".
In the subsequent years, Diddley had several more minor hits, including "Say Man" in 1959, the cover "Sixteen Tons" in 1960 and "You Can't Judge a Book by the Cover" in 1962. He also composed some hits songs for others, including the 1987 pop hit "Love Is Strange" for Mickey & Sylvia and the rockabilly track "Mama (Can I Go Out)", a minor 1959 hit for singer Jo Ann Campbell.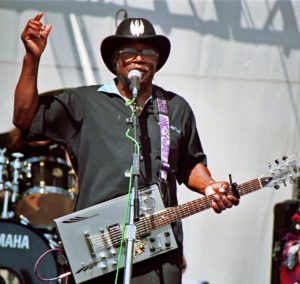 Based on African rhythms, the "Bo Diddley beat" became a bedrock rhythm in rock n' roll. It was included in songs by rockers Buddy Holly, the Rolling Stones, and George Thorogood as well as some pop songs like the Strangeloves' 1965 hit "I Want Candy." Diddley developed other hypnotic rhythmic attacks to bolster his vocals and freewheeling, vibrating guitar riffs to develop a truly signature sound. While he all but abandoned recording by the mid 1960s, Diddley spent the next four decades as a galvanizing live presence and a tremendous influencer of artists ranging from the Yardbirds to Jimi Hendrix to the Pretty Things in the late 1960s, and far too many groups to enumerate from the 1970s forward.
In later years, Diddley moved from Chicago to Washington, DC where he opened a studio and produced albums for the likes of the Marquees, the Moonglows and Marvin Gaye. He also had multiple live collaborations with artists like B.B. King, Les Paul, Albert Collins, and the Grateful Dead and even tried his hand at acting with cameos in a few major motion pictures and popular commercials. In 1996, Diddley released what would be both his first major label album in several decades and last release in his lifetime, the Grammy-nominated A Man Amongst Men with guest artists like Keith Richards, Ron Wood and the Shirelles. Diddley continued to tour, albeit less frequently, into the new century and received many lifetime awards up until his death in June 2008 at age 79.