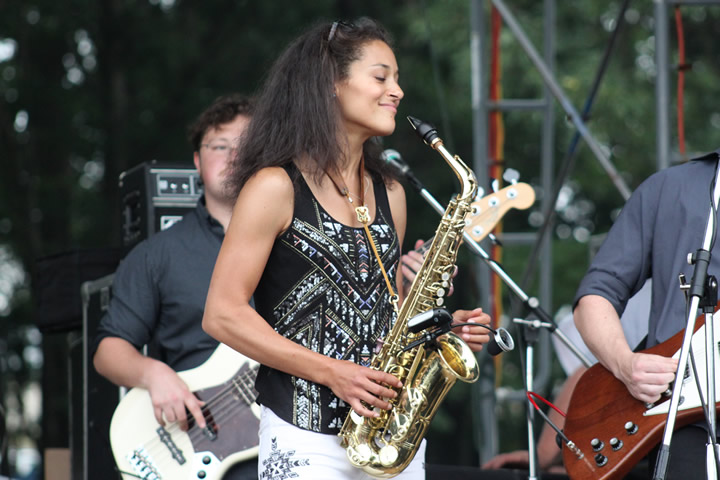 Combining dynamic, passionate and entertaining live performances with an authentic blending of R&B. soul, blues and Gospel, Vanessa Collier is fast becoming a premiere, in-demand artist. Based in Philadelphia, this young artist tours extensively on the east coast and has performed in nearly a dozen countries internationally. In 2017, Collier released her second LP, Meeting My Shadow, which offers a solid glimpse into her burgeoning talent.
Vanessa grew up in a family with a wide variety of musical tastes and she studied music at the Berklee School of Music in Boston. Once out of school in 2012, she was hired by blues icon Joe Louis Walker to be part of his band as a vocalist and saxophone player. Here, Vanessa honed her skills and developed a strong stage presence. In 2014, Collier struck out on her own and recorded her debut record, Heart Soul & Saxophone, which found national recognition including the Best of 2014 Blues Breaker Artist on House of Blues Radio and was even praised by Dan Aykroyd's blues radio show.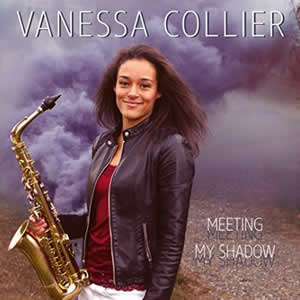 Collier took her time composing tracks for the Meeting My Shadow album. She co-produced the album with Kevin Houston and recorded it at the Music + Arts Studio in Memphis, Tennessee. In contrast to her debut album, this sophomore release was issued by blues stallwart label Ruf Records. On Meeting My Shadow, Vanessa plays a variety of instruments, including alto, soprano, and tenor sax, keyboards, flute and, of course, all the lead vocals.
Aside from the eight original songs by Collier, Meeting My Shadow includes three cover tracks. "When Love Comes to Town" was originally done as a duet by U2 and BB King, but Collier takes on this cover vocally solo and is accompanied by great Chicago-style slide guitar by Josh Roberts. Originally by Deadric Malone, "You're Gonna Make Me Cry" is a slow soul ballad with rich vocal harmonies, blusey guitar lead, and atmospheric organ by Brenda Jackson. "Up Above My Head I Hear Music in the Air" is a Gospel revival hymn by the legendary Sister Rosetta Tharpe, featuring a surprising country-influenced guitar by Laura Chavez accompanied by some rolling and shuffle drums by TK Jackson.
Meeting My Shadow

by

Vanessa Collier
Released: February 24, 2017
Produced by: Vanessa Collier, Kevin Houston & Thomas Ruf
Track Listing
Primary Musicians
Poisoned the Well
Dig a Little Deeper
When It Don't Come Easy
Two Parts Sugar, One Part Lime
When Love Comes to Town
You're Gonna Make Me Cry
Whiskey and Women
Meet Me Where I'm At
Cry Out
Up Above My Head, I Hear Music in the Air
Devil's on the Downslide
Vanessa Collier
Lead Vocals, Saxophone, Keyboards, Flute, Percussion
Laura Chavez
Guitars
Charles Hodges
Piano, Keyboards
Marc Franklin
Trumpet, Flugelhorn
Daniel McKee
Bass
TK Jackson
Drums, Percussion
The album begins with the wild clarinet by keyboardist Charles Hodges on "Poisoned the Well", a song with biting lyrics about being let down but ultimately gathering the strength to stay true to yourself. "Dig a Little Deeper" features upbeat, polished funk bass by Daniel McKee and a fine horn arrangement by Marc Franklin, all topped off by growling vocals and a soaring sax solo by Collier. On "When It Don't Come Easy", Roberts provides acoustic slide, which works well into a nice moderate groove that gives the vocals a chance to shine and deliver some potent lyrics like;
"I am the rapids roaring and free, I am the water, a torrent of dreams and oh I can't be tamed, You can dam up the river but the river just won't be restrained…"
"Two Parts Sugar, One Part Lime" is a simple upbeat rocker fantastic boogie piano by Hodges and a later burning sax solo. "Whiskey and Women" is a kickin' blues rocker with intense vocal delivery and sax lead over rock and rudimentary rhythms by Jackson and McKee. "Meet Me Where I'm At" takes a distinct turn towards New Orleans jazz followed by a return to the clavichord and horn infused funk rock on the call-to-action anthem "Cry Out".
Starting with the afore-mentioned "Up Above My Head I Hear Music in the Air", the album wraps with a couple of strong spiritual tunes with a coming-back-home effect. The strong closer "Devil's On the Downside" features Collier on the Wurlitzer organ in a soulful Southern Gospel track which really highlights her fantastic range in style and vocals as well as a real maturity in songwriting.
Vanessa Collier is currently nominated for a couple of Blues Music Awards (to be awarded in May 2018) and is touring throughout the east coast, headlining clubs as well as larger festivals. Some upcoming highlights include Ms. Collier being one of a select number of blues artists featured at this year's Berks Jazz Fest in Reading, PA in April and playing the main stage during the 21st Annual Briggs Farm Blues Festival this coming July.
~

Vanessa Collier online