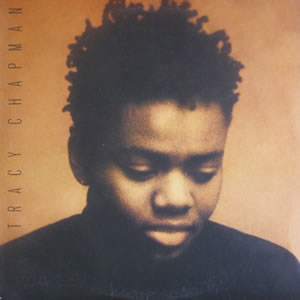 Tracy Chapman's self-titled 1988 debut album was an immediate and huge critical and commercial success. In fact, this acoustic-based record of original compositions became the the first album ever by a female artist to have more than 10 million copies sold worldwide, ultimately doubling that number with more than 20 million worldwide copies sold. An eventual triple Grammy winner, Tracy Chapman was critically acclaimed for its content, simplicity and direct vocal delivery, this album also manages to subtly pack in diverse musical content and arrangements in under forty minutes of overall running time.
A native of Cleveland, Ohio, Chapman received her first musical instrument (a ukulele) at age three. By the age of eight, she began playing the guitar and writing her earliest songs. While attending Tufts University north of Boston, Chapman began performing in coffeehouses and caught the attention of publisher Charles Koppelman in 1986, who helped her sign with Elektra Records the following year. Chapman began immediately writing songs based on her political and social orientation.
Following some rejections by mainstream producers, David Kershenbaum took on the project with a desire to record an acoustic album and found agreement with Chapman's desire to keep the arrangements simple. Tracy Chapman was recorded at the Powertrax studio in Hollywood, California in eight weeks during 1987.
Tracy Chapman

by

Tracy Chapman
Released: April 5, 1988
Produced by: David Kershenbaum
Track Listing
Primary Musicians
Talkin 'bout a Revolution
Fast Car
Across the Line
Behind the Wall
Baby Can I Hold You?
Mountain o' Things
She's Got Her Ticket
Why?
For My Lover
If Not Now…
For You
Tracy Chapman
Lead Vocals, Guitars, Percussion
Jack Holder
Piano, Keyboards, Guitars, Sitar
Larry Kleine
Bass
Denny Fongheiser
Drums, Percussion
Many of Chapman's lyrical themes alternate between the macro struggles by class and race to the micro internal battle to hold on to one's dreams. The album commences with two of its most indelible tracks and Chapman's first charting hits. "Talkin' 'bout a Revolution" starts with a calmly strummed intro leading to a richer arrangement and never relents from this original three chord pattern as Chapman delivers her direct lyrics and melody. The great dark folk feel and vibe of "Fast Car" follows. Working off a simple, emotional acoustic riff, this song tells a gritty story of a poor couple optimistically trying to find a better life through the symbolic "vehicle". The song peaked in the Top 10 in the US but topped the charts in several other countries.
"Across the Lines"is a short but bright folk song with some pop elements that make it a pleasant listen, contrasted by the purely acapella "Behind the Wall", with its haunting narrative about a domestic dispute which eventually turns deadly. The accessible "Baby Can I Hold You" has a country ballad rhythmic feel with simple, apologetic love-song-esque lyrics. Released as a single in early 1989, this song barely missed the Top 40 in the charts. The album's original second side begins with the inventive "Mountains o' Things", which uses a variety of percussive sonic elements of Denny Fongheiser under Chapman's potent vocals and lyrics.
The reggae-flavored "She's Got Her Ticket" features some fine lead guitar by Jack Holder along with a repeated verse delivering a great melody. "Why?" is an upbeat screed on the world's problems, leading to "For My Lover", the best track on the later part of album. Acting as a fine counterpart to "Fast Car", Chapman employees inventive melodies and lyric delivery above a country folk arrangement complete with cool, subtle steel guitar by Ed Blackand some electric violin by David LaFlamme. Wrapping up the album is the jazzy, pop piano tune "If Not Now…" and the quiet, acoustic, personal love song "For You".
Tracy Chapman topped the album charts in over a half dozen countries including the US and the UK and has been certified 6x platinum by the Recording Industry Association of America. Chapman would continue making great music for decades to follow, but none would be quite as successful nor impactful as her debut record in 1988.
~
Tracy Chapman online