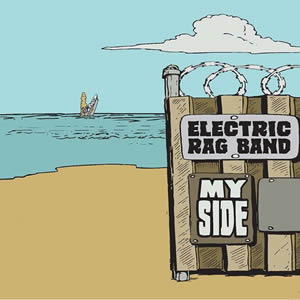 The Electric Rag Band is a father/son duo which incorporates many roots genres – rockabilly, blues, folk, bluegrass and more into interesting fusions of catchy and energetic songs. This deliberative yet natural-sounding approach pays homage to several styles of roots music while not penning itself into any specific genre. The 2015 album My Side is the latest release of original music from this act which has been recording and performing for over two decades.
Based in Tulsa, Oklahoma, the group consists of guitarist and vocalist Pat Cook and his son Daniel Cook, who handles drums, percussion, backing vocals and other instrumentation. Starting with their self-titled 1996 debut album, The Electric Rag Band has been steadily releasing new material through the decades, with My Side being their sixth album.
Through the years, the group has also established a popular live act throughout the Central Plains and parts of the Midwest, often opening for national and international acts such as Johnny Winter, JD McPherson, Southern Culture on the Skids, and Billy Bob Thornton and the Boxmasters.
My Side

by

The Electric Rag Band
Released: October 2, 2015
Produced by: The Electric Rag Band
Track Listing
Primary Musicians
My Side
Do This to Me
She's Got My Car
The Over You Rag
She's So Good Lookin'
Like I Want
Charleston Girl
Two Dollar Strings
For My Health
Smash That Radio
Slider
Three Bullets
My Revolution Blues
Pat Cook
Guitars, Banjo, Bass, Vocals
Daniel Cook
Drums, Percussion, Guitar, Vocals
The album comes in strong with the spastic electric guitar riffing and thumping rhythm of the title track, "My Side". This blues/rocking song drones but to great effect as it solidifies its subtle message of rebellion along the way. Lyrically, the song encourages people to be more honest with themselves and not let outside forces control their lives. With the second song, "Do This to Me", the album instantly pivots with a rapidly picked acoustic accompanied by a plethora of percussive elements to complement the down-home vocals in this country blues gem. "She's Got My Car" features a fuller arrangement as Pat Cook adds bass behind his driving electric. Between the verses, this song takes off in a slight frenzy of sped up blues with a latter instance containing a nicely crafted lead guitar.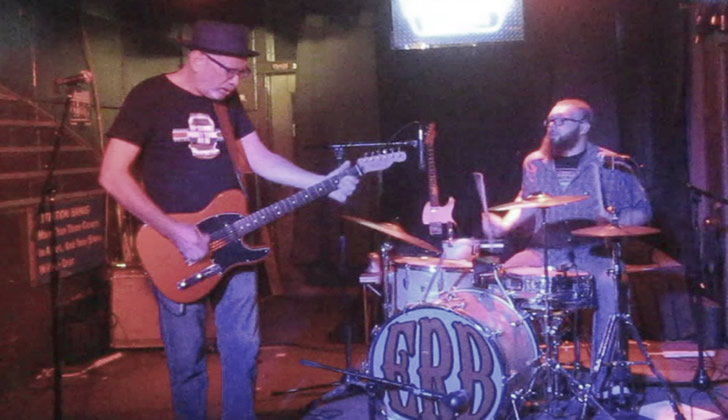 "The Over You Rag" features rapid, dueling guitars that make this the most interesting track on the album thus far  The delivery and timing on this track is expert throughout.
"She's So Good Lookin'" adds yet another element, the slide acoustic blues, which is perfectly complemented by Daniel Cook's crafted percussion. A subtle guitar lead ushers in "Like I Want" as the underlying rhythms gradually work their way in to this folk/bluegrass track melodic vocals.  The following two songs appear to have been recorded live as some of the sonic dynamics are diminished. Nevertheless, these are interesting as "Charleston Girl" features some 1940s-style swing elements and the instrumental piece, "Two Dollar Strings", is an upbeat jam with animated drums throughout.
While not as rewarding as earlier tracks, the latter part of the album features interesting and entertaining numbers. "For My Health" is a bit of a barroom anthem on the "positive" effects of drinking, while "Smash That Radio" has a darker folk feel as Pat's lead guitar pattern acts in contrast to Daniel's upbeat drums while it all somehow works to great effect. "Slider" comes in like a subtle and methodical rocker with later strategically placed rhythmic rudiments. "Three Bullets" is a Western style acoustic cowboy song with Johnny Cash-like elements about a dead man who delivers a morbid posthumous ode about his own and others demise in recent days. The final storytelling track, "My Revolution Blues" has steady, consistent rhythms, a slight banjo and some vocal harmonizing during the choruses.
The Electric Rag Band continues to tour in 2016 and is hoping to expand to other regions with an expanding fan base.
~
The Electric Rag Band Online