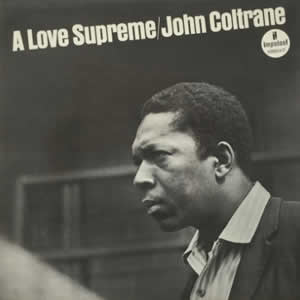 A Love Supreme is a four part suite by American jazz saxophonist and composer John Coltrane released as an album in January 1965. It became one of Coltrane's most critically acclaimed and bestselling albums. The album was a work of deep spirituality using modal and avant-garde jazz and during the 33 minutes of this record, Coltrane and Co. bring the listener on an incredible emotional musical journey with much room for personal interpretation. A constant on a variety of all-time lists, A Love Supreme was selected for preservation in the U.S. National Recording Registry due to its "cultural, historic, or artistic significance."
A native of North Carolina, Coltrane served in the Navy during World War II and played in the swing band called "Melody Masters" while based in Hawaii, making his first recording there in 1946. After his service, he was a member of groups led by Dizzy Gillespie, Earl Bostic, and Johnny Hodges. In 1955, Coltrane was enlisted by Miles Davis to help form a quintet and they released several influential recordings including the classic albums Milestones (1958) and Kind of Blue (1959) before this "First Great Quintet" disbanded due in part to Coltrane's heroin addiction. Coltrane later formed his own quartet for live performances in the early 1960s, which eventually included pianist McCoy Tyner, bassist Jimmy Garrison and percussionist Elvin Jones, collectively known as "The Classic Quartet".
On December 9, 1964 this quartet recorded A Love Supreme during a single session at Van Gelder Studio in Englewood Cliffs, New Jersey with producer Bob Thiele. The lights in the studio were dimmed that evening to replicate the mood and feel of a jazz club as the quartet communicated without speaking as they recorded the four parts of this album.
A Love Supreme

by

John Coltrane
Recorded: December, 1964
Released: January, 1965
Produced by: Bob Thiele
Track Listing
Primary Musicians
Acknowledgement
Resolution
Pursuance
Psalm
John Coltrane
Vocals, Saxophone
McCoy Tyner
Piano
Jimmy Garrison
Double Bass
Elvin Jones
Drums, Percussion
The original LP contained two parts on each side of the record. "Acknowledgement" commences things when Jones's gong and high symbols give way to Garrison's steady bass line and Tyner's building piano momentum all working towards a fully improvised sax-led jam. Coltrane plays variations of the main theme in every key, repeating the four notes a total of thirty-six times before the motif dissolves into Coltrane's overdubbed vocal chant "A Love Supreme", the only real vocals on the suite.
Garrison's bass initiates next part, "Resolution", before all four players explode into a high energy jam led by Coltrane's growling sax. About two minutes into the piece, Tyner takes over with an extended piano section while Coltrane rests a while before coming back with a vengeance to close the track and the first side.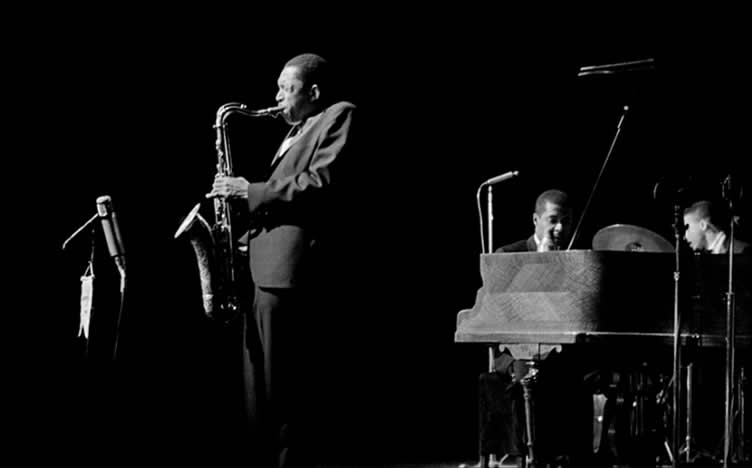 "Pursuance" starts with extended drum solo by Jones which rivals in intensity anything you'd hear at a top notch rock concert before the piece launches into a higher level of improvisation, first with a short section by Coltrane and then with Tyner going mad, all above Garrison's hyper double bass and some of the finest jazz jam you'll ever hear. By contrast, the final section "Psalm" is a calm, personal music statement which Coltrane called a narration as he wrote an accompanying devotional poem in the record's liner notes, ending with the unambiguous words, "Elation. Elegance. Exaltation. All from God. Thank you God. Amen".
About six months after the album's release, Coltrane's quartet made their only live recording of the "Love Supreme" suite at a jazz festival in France, on July 26, 1965. These recordings were added to the 2002 remastered deluxe edition of the album. Coltrane continued his strong regiment of performing and recording following the success of A Love Supreme but unfortunately his life was cut short when, at the age of 40, he died of liver cancer in July 1967.
~
John Coltrane Online