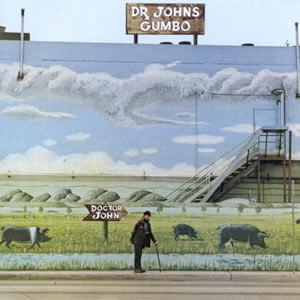 45 years ago Dr. John released his iconic tribute to New Orleans music, Dr. John's Gumbo. This fifth album by this artist is a collection of covers of classic tunes associated with his native city. The resulting sound falls somewhere between the earliest rock n' roll and the contemporary sounds of the early seventies, all while remaining musically true to the New Orleans R&B sound.
Dr. John was born Malcolm John "Mac" Rebennack with French lineage in New Orleans dating back to the early 1800s. His earliest influences were King Oliver and Louis Armstrong, while as a teen he was present at some of the earliest recordings of Little Richard. At age 16, Rebennack gained employment as a producer at Ace Records while playing guitar in local clubs through the late 1950s. After deciding to concentrate on piano and adopting the stage persona "Dr. John", he migrated to Los Angeles to join the booming session musician scene and became part of the famous "wrecking crew". Here, he played on albums ranging from Sonny & Cher to Frank Zappa and the Mothers of Invention.
In the late 1960s, Dr. John struck out as a solo artist, at first combining his core New Orleans-style with psychedelic rock tilted towards his fascination of voodoo religious ceremonies. His acclaimed debut album Gris-Gris was released in 1968 followed by the subsequent yearly releases Babylon, Remedies and The Sun, Moon, and Herbs, which all worked to build Dr. John's cult following.
Co-produced by Harold Battiste and Jerry Wexler, Dr. John's Gumbo was the first studio album to significantly change musical direction. He later wrote that this album was, "both a tribute to and my interpretation of the music I had grown up with in New Orleans in the late 1940s and 1950s."
Dr. John's Gumbo

by

Dr. John
Released: April 20, 1972
Produced by: Harold Battiste & Jerry Wexler
Track Listing
Primary Musicians
Iko Iko
Blow Wind Blow
Big Chief
Somebody Changed the Lock
Mess Around
Let the Good Times Roll
Junko Partner
Stack-A-Lee
Tipitina
Those Lonely Lonely Nights
Huey Smith Medley
Little Liza Jane
Dr. John
Lead Vocals, Piano, Guitars
Harold Battiste
Clarinet, Saxophone, Horn Arrangements
Sidney George
Harmonica, Saxophone
Jimmy Calhoun
Bass
Fred Staehle
Drums, Percussion
Dr. John's Gumbo starts with its most significant hit, "Iko Iko", originally composed by James "Sugar Boy" Crawford in the 1950s and telling the story of a parade collision between two tribes of Mardi Gras Indians. Musically, the choppy rhythms are accented by scratchy lead vocals, responsive backing vocals and just the right amount of boogie-woogie piano and brass sections, nicely setting the pace for the album. "Blow Wind Blow" the first of several Huey "Piano" Smith songs, works its way in from the ending of "Iko Iko" in medley-like fashion and offers another fine upbeat and entertaining rock boogie.
Earl King's "Big Chief" is built on a cool electric organ arpeggio, offering a spooky-cool groove upon which to build – other elements including a growling sax and more call and response backing vocals. "Somebody Changed the Lock" leans the most towards New Orleans jazz, especially through the various iconic horns throughout above the now standard boogie piano. Next, (Ahmet Ertegün) – here Dr. John puts a a Dixieland spin on the Ray Charles classic, "Mess Around" (written by Atlantic Records founder Ahmet Ertegün), with this version offering not too much in terms of substance but plenty of pure musical fun.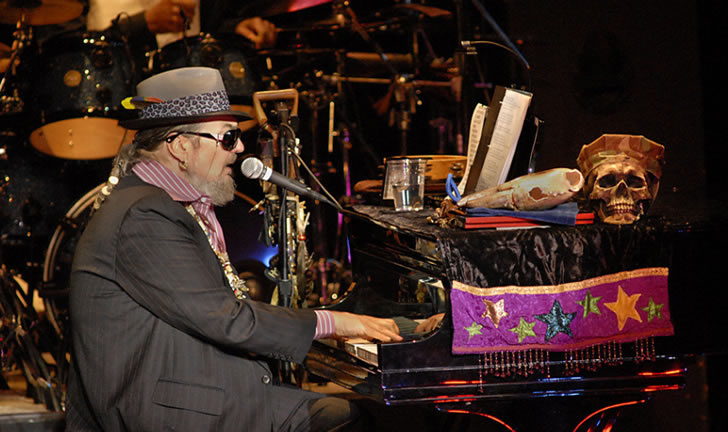 "Let the Good Times Roll", another song originally by King, stays within the original blues structure of the song, with much a capella vocals in between the musical chops during the verses. "Junko Partner" is built upon a consistent, shuffling drum beat before the fine piano-led blues verses. This song persists in its methodical rhythms throughout, even having a bridge which is purely vocals over drum shuffle. "Stack-A-Lee" follows with as good a version of this much covered staple (usually titled "Stagger Lee"), featuring a frantic piano and contrasting growling vocals, while Professor Longhair's "Tipitina" is recorded much more low-fi, almost sounding like it was recorded live in a club or even during a rehearsal.
The final stretch of the album starts with "Those Lonely Lonely Nights", rapid piano over steady rhythms in Fats Domino-like fashion. Next is a seamless tribute to Huey "Piano" Smith, with a medley of three tunes ("High Blood Pressure", "Don't You Just Know It", and "Well I'll Be John Brown") are offered over steady boogie rock, never breaking out of key or rhythm. The album wraps with "Little Liza Jane", featuring a good sax lead and rich harmonies.
Dr. John's Gumbo commenced a very successful phase in Dr. John's career and set the stage for the follow-up 1973 album, In the Right Place, which became his most commercially successful album ever.
~
Dr. John Online