Buy Wake Me When the Wind Dies Down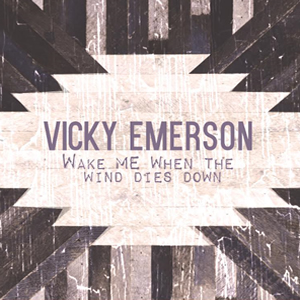 Vicky Emerson has discovered a way to sound completely fresh while employing traditional styles. On her 2016 release and third album, Wake Me When the Wind Dies Down, Emerson mainly stays within the confines of Country/Americana musically, with some brief but brilliant forays into folk, jazz, and rock territory. But her smooth vocal style and strong deliverance of thoughtful and poetic lyrics pushes the album to a level much higher than "ordinary".
Originally from Wisconsin, Emerson relocated to New York City and San Francisco while pursuing her music career, before settling in Minneapolis, MN. She began performing on piano, releasing a holiday instrumental album in 2001 called A Winter Moment. She later began to also compose on acoustic guitar, drawing influence from Country legends such as Rosanne Cash and Lucinda Williams as well as blues, folk and traditional country, which she blended together to forge her own style of Americana. Through the 2000s, she recorded a series of EPs before her first full album in the Americana style, Long Ride, was released in 2009. She followed up with another acclaimed album, Dust & Echoes, in 2012.
For her third album, Emerson launched a Kickstarter campaign which raised $12,000 in just a few weeks and made top-notch production feasible. Guitarist Matt Patrick produced the album at his studio, The Library, in Minneapolis. The bed tracks were recorded in just three days in June of 2015, with the goal being to establish a similar energy to that of Emerson's live shows, so minimal overdubbing was used.
Wake Me When the Wind Dies Down

by

Vicky Emerson
Released: January 1, 2016
Produced by: Matt Patrick
Track Listing
Primary Musicians
Under My Skin
Rattle Shake
Long Gone
Silhouette
Runaway Train
Save All My Cryin' (for Sunday Afternoons)
Lyndale
Dance Me Into the Night
September Midnight
Follow the Moon
Vicky Emerson
Lead Vocals, Acoustic Guitar, Keyboards
Matt Patrick
Electric Guitar, Vocals
Jake Armerding
Fiddle
Aaron Fabbrini
Lap Steel Guitar, Dobro
Ian Allison
Bass, Keyboards
Steve Goold
Drums
Of the ten songs on Wake Me When the Wind Dies Down, Emerson solely composed eight with Patrick co-writing the first two songs on the album. Emerson entered the studio with the first verse and chorus for "Under My Skin" with Patrick completing the tune "in about fifteen minutes". The result is a rhythm driven track which unfolds like a train in slow pursuit, from the opening scratched/deadened acoustic chords to the crisp rockabilly electric guitars. Topping it all off is Emerson's smooth but strong vocals treated with the right dose of rich reverb for effect. "Rattle Shake" also straddles the line between country and something more fusion-based, with a seductive vibe and an overall sound reminiscent to that on Neil Young's Harvest Moon album. A highlight from this track is the traded licks between Patrick's electric guitar and the "electrified" fiddle of Jake Armerding.
"Long Gone" is a rhythm-driven track, highlighting the skills of bassist Ian Allison and drummer Steve Goold. Above these rhythms rises the slightest swells of treble instrumentation with the lead vocals and nice blended harmonies leading the way melodically. "Silhouette" is the first track to move completely away as a folk song with a picked acoustic guitar rhythm accompanied by the dobro of Aaron Fabbrini. While the arrangement does grow subtly, the song remains sweet and soft throughout due to the vocals and overall chilling vibe. "Runaway Train" brings the mood back up with Goold's rolling drum shuffle fading in before being joined by a Western-style electric riff, some fiddle and pedal steel. There is an interesting mid-section with Emerson whistling the melody, giving it a real authentic Western feel and her vocals hit some sweet high notes during the chorus hook.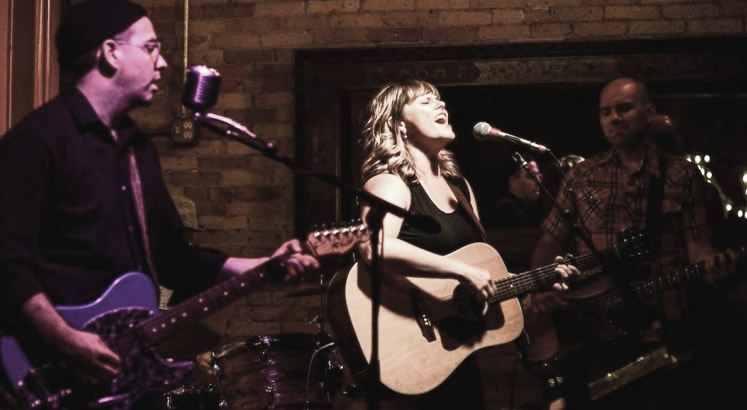 "Save All My Cryin' (For Sunday Afternoons)" is a slow and sad country waltz with just the right amount of guitar, steel, and fiddle interjected. This song is a special one for Emerson, who came up with the title about eight years ago but was unsatisfied with the lyrics she wrote. Vicky literally packed the song away in a storage locker in a box full of half-finished songs when she moved to New York but rediscovered the track last summer and gave it another shot. The result is some very poetic and profound lyrics delivered through mournful, soulful vocals;
I'm not good with the needle, I can't mend what you've broken inside of me…"
The album's final sequence starts with the fantastic original, "Lyndale", a bright and hopeful yet slightly sad tune with great melody and profound lyrics. The music features consistent but contrasted picked electric guitar behind the upbeat, strummed acoustic while the lyrics are a journey down memory lane, looking back on the past with fondness but looking forward to what the future brings. "Dance Me Into the Night" has a jazzy feel in the guitar chords with high-flying, yet intimate vocals. It has a choppier rhythm than most of the other tracks and a potent, nearly overbearing fiddle by Armerding, who finishes with some finely finger-picked fiddle notes. "September Midnight" is another quiet but effective track with some dobro note overtones layered with electric guitar, overall using the right amount of production restraint. "Follow the Moon" wraps things up as a fun and joyful bluegrass stomp.
Following the release of Wake Me When the Wind Dies Down, Emerson reached #58 on the Americana Music Association radio campaign, a respectable rise for an independent artist. She will next focus on a similar European Americana campaign as well as continue touring in support of the album. Vicky notes how incredibly humbled she is that so many people put their faith in her music through the crowdfunding campaign which allowed her "to turn my ten songs into an album that I could be proud of".
~
Vicky Emerson Online