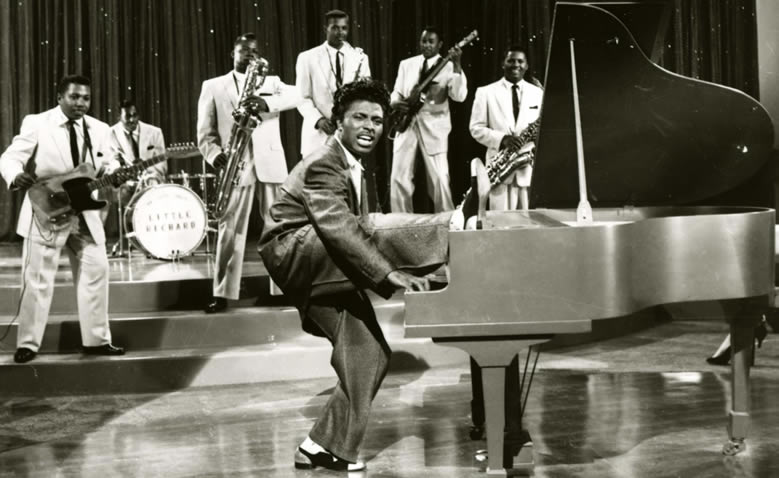 Little Richard was an iconic singer, songwriter, performer and influencer in the first wave of rock and roll. Emerging in pop music in the mid 1950s, Richard's distinct, raspy, barked vocals and frantic, standing piano playing style laid a foundation for countless artists and sub-genres of rock for decades to come. With this, he has been labeled as "The Innovator", "The Originator", and even "The Architect of Rock and Roll".
Richard Wayne Penniman was born in Macon, Georgia in 1932 as the third of twelve  children in a large African-American southern family with strong evangelical Christian roots. At age 10, Richard fashioned himself as a singing faith healer and dreamed of becoming a preacher. His initial musical influences were all gospel performers such as Brother Joe May, Mahalia Jackson, Marion Williams and Sister Rosetta Tharpe, who overheard a then-14-year-old Penniman singing one of her songs before a performance at the Macon City Auditorium, where Richard worked. Tharpe invited him to open her show that night, a moment that became a catalyst for Little Richard's desire to become a professional performer. He dropped out of high school in 1949 to join Dr. Hudson's Medicine Show and, for the first time, branched out to musical genres beyond gospel.
Through the first half of the 1950s, Richard expanded his musical style as he performed with several acts including Buster Brown's Orchestra, Perry Welch and His Orchestra, the Tempo Toppers, the Upsetters, and on the minstrel show circuit throughout the South. He signed recording contracts with RCA Victor and Peacock Records and recorded several singles for each but found little more than local success. While Little Richard's recording career as off to a shaky start, his live act was growing due to his reputation for his high energy antics onstage.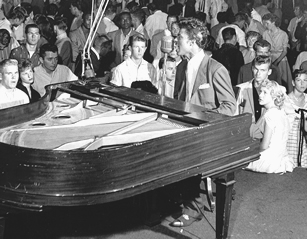 Finally in 1955, Richard sent a demo to Specialty Records and he worked with producer Robert Blackwell, who sent him to New Orleans where he was paired with several of Fats Domino's session musicians. Out of these sessions came risqué rhythm and blues track titled "Tutti Frutti". Co-written by lyricist Dorothy LaBostrie, "Tutti Frutti" was released in October 1955 skyrocketed to the Top 5 of Billboard's R & B charts and became a major cross-over hit on the pop charts in both the US and the UK, selling over a million copies and launching Little Richard's international career. He built on his success with a string of Top 40 singles through 1956, including "Long Tall Sally", "Slippin' and Slidin' (Peepin' and Hidin')", "Ready Teddy", and "The Girl Can't Help It".
1956 also saw Little Richard branch out to film, where he performed a couple of his songs in both The Girl Can't Help It and Don't Knock the Rock. With Richard's success along with the simultaneous emergence of early rock and roll, there were largely integrated audiences that often came together to dance. He toured on the same bill as contemporary future legends like Fats Domino and Chuck Berry and his songs were quickly covered by Bill Haley, Buddy Holly, Jerry Lee Lewis, Pat Boone and Elvis Presley, with the "King of Rock n' Roll" personally telling the "Architect of Rock and Roll" that he was the greatest inspiration for his own music.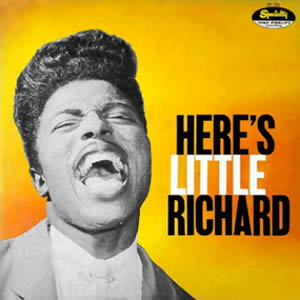 Having released more than a dozen singles on various labels throughout the decade, Little Richard finally released his debut album in 1957. Here's Little Richard features a mix of past singles as well as two additional hit songs, "Rip It Up" and "Jenny Jenny". This initial album would end up being the highest charting of Little Richard's career, reaching the Top 20 on the album charts. A second, self-titled album followed in early 1958 and Richard supported the album with an Australian tour along with Gene Vincent and Eddie Cochran. During a flight from Melbourne to Sydney he witnessed the plane's red hot engines during some flight difficulty. After his Sydney performance, Richard witnessed a bright red fireball flying across the sky which left him deeply shaken. Although he later learned that this was Sputnik 1, the first artificial Earth satellite launched by the Soviet union, Richard took this as a "sign from God" and decided on the spot to quit performing secular music and the accompanying wild lifestyle he was living at that time.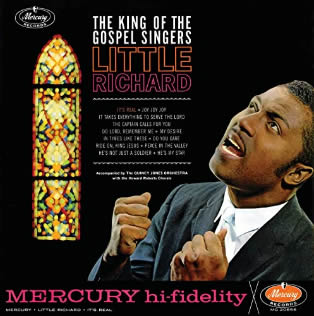 After returning to the United States and performing a "farewell performance" at the Apollo Theater Richard enrolled at Oakwood College to study theology in pursuit of becoming a minister. Between semesters he formed the Little Richard Evangelistic Team, a traveling ministry and in short time he met and married his first wife Ernestine. In 1961, Little Richard signed with Mercury Records where he released the critically acclaimed album The King of Gospel Singers, produced by Quincy Jones and with liner notes provided by his childhood hero Mahalia Jackson. Backed by a group that included a teenage Billy Preston on keyboards, Little Richard launched a worldwide gospel tour in 1962. However, performing gospel-only material drew boos from an audience in England, where Richard's 1950s rock songs were still very popular. So, after viewing the positive reception that opener Sam Cooke was receiving, Little Richard decided one night to launch into "Long Tall Sally" to a positive hysterical roar from the audience. And just like that, Little Richard was a rock performer once again.
He toured with the Beatles, Bo Diddley, the Everly Brothers, and the Rolling Stones, staying at the heart of popular vitality through the mid 1960s. "The Little Richard Spectacular" was a television show, so popular that it was rebroadcast twice and in late 1964 an upcoming guitarist named Jimi Hendrix joined Little Richard and the Upsetters as a full member for a short time. he continued to jump from label to label, signing with Modern Records, Okeh Records and Brunswick Records all within a span of less than 4 years in the late 1960s. His releases during this time charted much better in Europe than in his native USA where the first wave of rock and roll had given way to several emerging genres in popular music.
After a minor hit, "Freedom Blues" in 1970, Little Richard entered the rock n' roll revival circuit which seemed to lock him in place as a 1950s legend who was now viewed more with nostalgia than as cutting-edge. In 1976 he re-recorded several of his most popular hits for K-Tel Records to offer expanded high tech recreations of these classics for an audience more in tune with the disco sound. Then in 1979, Little Richard quit rock and roll once again to return to evangelism with the release of the gospel album, God's Beautiful City.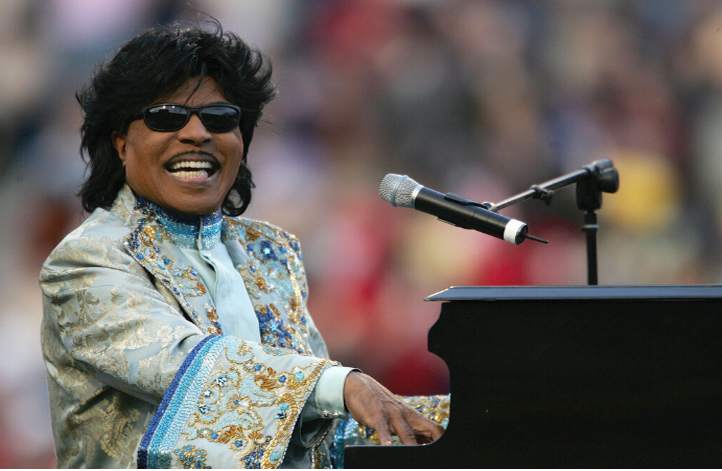 Through the 1980s and 1990s, Richard made sporadic comebacks in the public eye, releasing an authorized biography, Quasar of Rock: The Life and Times of Little Richard in 1985, having a bit part in the hit movie Down and Out in Beverly Hills, and performing cameos on recordings by U2, B.B. King, Johnny Cash, Jerry Lee Lewis, Cinderella and Living Colour. His final album was released in 1992 and his life was dramatized for the 2000 biographical film Little Richard, which focused on his heyday in the fifties and sixties. While continuing to perform both gospel and secular rock, the frequency of Little Richard's performance diminished in the 21st century before his death in May 2020 at the age of 87.
Ray Charles once introduced Little Richard in the 1980s as "a man that started a kind of music that set the pace for a lot of what's happening today." This was a vast understatement as he influenced so many legends over the decades from Elvis Presley and Buddy Holly, to James Brown and Otis Redding, to the Beatles and the Rolling Stones, to Elton John and Freddie Mercury, to hard rock staples like Deep Purple and Motörhead, to groups like the Sonics and the very inception of the punk rock genre. From humble beginnings in segregated Georgia Little Richard merged the inspiration of gospel with pounding rhythm & blues and a gleeful, wailing voice to alter the course of modern music throughout the world.
~